Jason Stark may have died homeless and broke, but he never quit trying to improve his life.
"You did the best you could, Jason. You did the best you could with what you had - with what God gave you, my baby," Mary Freeman said to her 35-year-old son as his body lay Tuesday at Rumsey-Yost Funeral Home in Lawrence.
Stark returned to Lawrence from Dodge City only a few days before he died on Sunday at the Lawrence Community Shelter. He had moved to Dodge City in early September and enrolled at Dodge City Community College.
"I'd been praying for God to bring my son back home to me. I'm not happy about how it happened, but I am happy that he made it home," Freeman said.
Stark, a certified nursing assistant and home health care aide, had relocated to Dodge City to pursue his goal of becoming an emergency medical technician.
"He liked caring for people," Freeman said.
"He was very benevolent."
Stark worked at various nursing homes in the Lawrence area, including Brandon Woods Retirement Community and Lakeview Manor.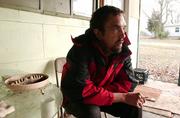 Despite his education and work history, Stark was often unemployed and homeless. He took prescription drugs to control his schizophrenia and had battled alcoholism in the past.
"He was a hard worker and worked often," Freeman said, "but once he saved up enough money, he would go back to living on the street."
The Lawrence Journal-World interviewed Stark on Dec. 28, 2003, pending the loss of cash assistance he received from the Department of Social and Rehabilitation Services.
With the help of Rob Tabor, benefits attorney at Independence Inc. in Lawrence, Stark eventually qualified for Social Security Disability Insurance and Supplemental Security Income benefits.
Kelly Henly, case manager at the Lawrence Community Shelter, said she knew Stark to be a kind but troubled man.
"I always found him to be very kind in general, but someone who struggled with some personal issues," she said. "He seemed to be on top of his treatment goals."
Henly was one of the last people to talk to Stark before his death.
"He just declined any help when I spoke with him on Saturday," she said. "He wasn't himself. He wasn't the Jason I was used to - that I had known before."
Before Stark left Lawrence, he was well known and liked in the Lawrence homeless community.
"He was very talkative and outgoing. He seemed very interested in improving his own condition," said David Beust, an acquaintance.
Though Stark declined help near the end, he spent his life striving to help others while trying to hold his own life together.
"I knew he was smart, but I don't know if he knew how to help himself," Freeman said.
Stark withdrew from classes at Dodge City Community College before he came back to Lawrence but, like the cause of his death, his reasons for returning remain unknown.
Copyright 2018 The Lawrence Journal-World. All rights reserved. This material may not be published, broadcast, rewritten or redistributed. We strive to uphold our values for every story published.