Olathe — There were some tears on the Free State High sideline Tuesday night after the Firebirds fell to Olathe East in the state soccer quarterfinals.
The 5-2 loss not only marked the end of the season for the Firebirds, but the end of a soccer career for eight seniors.
The tears were for both.
"We had an amazing season," sophomore midfielder Andrew Heck said of the Firebirds' 13-5-1 season. "The seniors did so much for our team. Everything we worked on in the offseason and where we are right now is because of them. The mood right now, of course, we're sad, but we made it to the state quarterfinals, and that's pretty impressive I think."
The game was more competitive than the score indicated.
The Firebirds competed with the top team in Class 6A for 65 minutes. Two goals by Olathe East in the final 15 minutes put the game out of reach for the Firebirds.
Olathe East jumped to an early 2-0 lead, scoring its first goal in the first 61â2 minutes and its second at the 17:35 mark.
The Firebirds, however, rallied, scoring two goals in 24 seconds.
Photo Gallery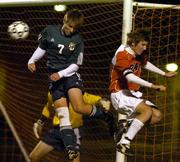 Free State High vs. Olathe East 11-1-05
First, senior defender Aaron Ideus took a free kick outside of the goal box and centered the ball to senior midfielder David Green, who put it past Olathe East goalkeeper Matt Waid.
Less than a half a minute later, Heck beat Waid in the goal box and knocked one in the corner of the net.
Free State coach Jason Pendleton said he was proud of his team.
"I think this game, despite losing, is pretty reflective of the success we had this season, because even when we got down 2-0 and it looked like it was going to get out of hand there, our kids battled back and just refused to give up," Pendleton said. "To come back and get two real quick goals shows the grittiness and toughness that embodies our team, and that was huge for us to gain some confidence and know that we could play with them and not just concede defeat right there."
Olathe East scored a goal with 7:11 left in the first half for a 3-2 lead.
"We had the momentum clearly, even when they scored the third goal," Heck said. "Coming into the second half, we came out hard and felt good."
Free State moved to a 3-5-2 alignment in the second half to put more pressure on Olathe East's dominating midfielders. Pendleton said it created more offense early in the half, but made FSHS more vulnerable in the box.
The Firebirds had a chance to tie it at 3 with 17 minutes left. Junior forward Erick Slan had an open shot on goal, but Waid came up with a key save to protect the Hawks' lead.
"That kind of was a little bit deflating when we didn't get that," Pendleton said. "If we get that, I think our energy level picks up and there is a little less stress for us."
Olathe East rattled off two unanswered goals, one of which was tapped in by a Free State player. At the 15:48, Olathe East widened its lead to 4-2 and at 6:45 sealed the score at 5-2 and ended the Firebirds' season.
"We played really hard, but we just gave them a couple of crap goals, and it was an unfortunate ending for us" Ideus said.
Pendleton said the postgame tears came mainly from the thought of losing the eight seniors. Even the coach got a little emotional at the thought of not being around that group next season.
"I don't want to think about next year at this point," Pendleton said.
Then he paused.
"Oh, man, you know, I've thought about it. I'll just really miss these kids when it comes down to it," he said. "We'll worry about the soccer later. I ll just miss being around them on a daily basis."
Copyright 2018 The Lawrence Journal-World. All rights reserved. This material may not be published, broadcast, rewritten or redistributed. We strive to uphold our values for every story published.