LINCOLN, NEB. — Nebraska football coach Bill Callahan dismisses the commotion as nothing more than "Gesture-gate."
And he isn't worried about being disciplined for his apparent throat-slash motion toward an official during the Cornhuskers' 31-24 loss to Oklahoma.
"I don't think they're going to send me to Alcatraz," Callahan said Tuesday.
The Omaha World-Herald and the Lincoln Journal Star, the state's two largest newspapers, ran pictures Tuesday of Callahan making a slashing motion across his throat with his right hand, index finger extended. The action came after Callahan argued with referee Steve Usechek about no holding being called on Kejuan Jones' 17-yard touchdown run in the fourth quarter Saturday.
Callahan on Monday denied making a throat-slashing gesture toward Usechek or any other official. On Tuesday he acknowledged making a "gesture out of frustration," but that it wasn't a throat slash.
"I'm 49 years old, and I don't go around (making) throat-slashing signs and symbols," Callahan said. "I don't use that type of demeanor, and I never have. This is way blown out of proportion. I don't know where we get all these gang symbols and allegations. This is 'Gesture-gate' or something."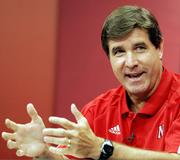 The gesture, he said, was one he made toward his children when "I've had it up to here."
Callahan said he hadn't seen video or pictures of what happened. He said the game film he watched was one intended for coaches and did not include sideline footage.
Callahan said he spoke with Big 12 Conference supervisor of officials Tim Millis on Monday night and assured him there was no malicious intent toward any official.
Callahan noted he was not flagged and was not aware of an official noting the matter in the game report. In college football, a throat-slashing gesture is a 15-yard unsportsmanlike-conduct penalty.
Millis did not immediately return a phone call left at his office Tuesday by The Associated Press.
Nebraska athletic director Steve Pederson said he had been asked by the Big 12 to look into the matter.
Conference rules require Pederson to report his findings, including disciplinary action, if any, against Callahan.
Big 12 commissioner Kevin Weiberg could accept Pederson's report or take further disciplinary measures.
Callahan said he was trying to make a point with game officials during his sideline tirade.
"I'm going to fight for my team, for my players, and that's my prerogative as a head coach," Callahan said. "If I don't think something is right, if I think something is unjust, I'm going to speak up. I certainly did that on Saturday."
The Huskers (5-3) have lost three of their last four games, including the last two at home - the first time that's happened since 1968.
Copyright 2018 The Associated Press. All rights reserved. This material may not be published, broadcast, rewritten or redistributed. We strive to uphold our values for every story published.