Are you gay?
If so, more than 200 people at Kansas University this week are expected to voice their support for you. And they won't simply tell you. They'll wear it on their clothes.
KU's Lesbian, Gay, Bisexual and Transgender Programs and Services office on Wednesday will distribute 225 T-shirts that read: "gay? fine by me."
The T-shirts will help people who are gay - whether openly or not - feel like KU is a safe place for them, said Michael Franklin, who is coordinating the project.
"I think more people will feel comfortable about being true to themselves," Franklin said.
The T-shirts are made by the New York-based nonprofit organization, Fine by Me, which started the program in 2003 at Duke University in response to a Princeton Review report naming Duke the most gay-unfriendly school in America. More than 2,000 people on the Duke campus bought and wore the shirts, according to Fine by Me.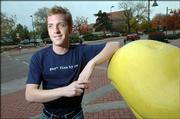 The shirts have made their way to other campuses and are landing at KU for the first time.
The LGBT program will ask for a $5 donation when distributing the T-shirts on Wescoe Beach on Wednesday.
The proceeds will pay for more T-shirts, Franklin said. He hopes to distribute 2,000 shirts by the end of the school year.
Franklin said he's already received more than 75 e-mail inquiries about the shirts - and no negative feedback.
"This is a very unique way to promote diversity and to promote awareness," he said.
Even though Douglas County was the only location in Kansas to vote in April against the gay marriage ban, some KU students said they still have rough times here.
Jonathan Pryor, a KU student and member of the group Queers & Allies, said he has been on the receiving end of insults on Massachusetts Street. He thinks the T-shirts are a good idea.
"It's good to have more things like this to make people aware that we do exist and to spread awareness that we're not going anywhere," he said.
Maureen Warren, the student leader of Queers & Allies, said there is room for improving the way people who are gay are treated on the KU campus.
"The goal should not be to tolerate diversity," she said, "but to celebrate the differences."
Copyright 2018 The Lawrence Journal-World. All rights reserved. This material may not be published, broadcast, rewritten or redistributed. We strive to uphold our values for every story published.