Pittsburgh — Nothing comes easy in the Ravens-Steelers rivalry, no matter the records or which team is healthy and which is hurting.
Jeff Reed kicked a 37-yard field goal with 1:36 remaining after Ben Roethlisberger opened each half with touchdown passes to rookie tight end Heath Miller, and the Steelers held off the depleted Baltimore Ravens, 20-19, Monday night to tighten up the AFC North race.
But only with a sigh of relief did Pittsburgh (5-2) end a two-game home losing streak and stay within a half-game of division leader Cincinnati.
The Ravens (2-5), already in danger of falling out of the division race, were without the last two NFL Defensive Players of the Year, Ray Lewis and Ed Reed, and, seemingly, much chance of ending what now is a seven-game road losing streak, but hung around to the end of a surprisingly close game.
"But our players know," Steelers coach Bill Cowher said. "This is still Baltimore. They still have some good players, and their coach challenged them, and they responded."
The Ravens, two-touchdown underdogs, took a 19-17 lead after an uncharacteristic botched play by Pittsburgh's special teams, a failed punt attempt in which rookie Greg Warren's snap to Chris Gardocki deflected off upback Sean Morey and resulted in Gardocki's incomplete pass.
"It's a first," Cowher said, saying Warren mistakenly snapped the ball early. "But we were holding them to field goals rather than touchdowns and got a chance to win it in the end."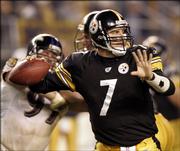 Thanks to the mixup, the Ravens got the ball at the Steelers' 45 with 5 1/2 minutes to play and a chance to steal a victory in a stadium where they haven't won since 2001. Matt Stover followed with his fourth field goal, a 47-yarder with 3:21 remaining that gave the Ravens their first lead - and, to the crowd of 64,178, brought back memories of a similar 23-17 upset loss to Jacksonville only two weeks before at Heinz Field.
But Roethlisberger (18-of-30, 177 yards, one interception) then hit Antwaan Randle El for 14 yards and Quincy Morgan for 23 yards, and Jerome Bettis had an 11-yard run on the 60-yard drive that led to Reed's go-ahead field goal.
"I looked at Ben and said, 'This is what it's all about,"' Cowher said. "He kind of smiled and has a look of confidence about him."
Baltimore had one more chance to win it, but Anthony Wright's fourth-and-six pass from his own 47 fell at Chester Taylor's feet, and the Steelers ran out the clock. Wright was 25-of-44 for 252 yards and two interceptions as running back Jamal Lewis, a 2,000-yard back two years ago, was held below 100 yards for the seventh consecutive game.
"I defy anybody to show me one frame of film that doesn't show us playing as hard as we could," Ravens coach Brian Billick said. "This group of guys had a lot of circumstances working against them, but they almost beat one of the best teams in the league."
The Steelers are 11-0 in Monday night home games under Cowher and Roethlisberger, who was hit on the right knee during the first half and seemed to be bothered the rest of the game, is 18-1 as a regular-season starter.
Baltimore, seemingly in turmoil without its injured stars, was in trouble at the start as the Steelers drove 79 yards on their opening possession to take a 7-0 lead.
Roethlisberger was 7-of-8 for 55 yards with four completions to Hines Ward on the first opening-drive score against the Ravens this season, one that ended with Miller's four-yard touchdown catch. It was Miller's fourth consecutive game with a touchdown, tying a Steelers record for a tight end set by Eric Green in 1991.
Baltimore, winless on the road for 350 days, couldn't have liked this, down 7-0 away from home against their biggest rivals before an offense that hadn't scored a touchdown in seven quarters got the ball.
"They were desperate," Steelers defensive lineman Chris Hoke said. "They knew they could fall out of the race if they didn't win."
Copyright 2018 The Associated Press. All rights reserved. This material may not be published, broadcast, rewritten or redistributed. We strive to uphold our values for every story published.