Keysville, Va. — Three years ago, Steven Bailey's small tobacco company was growing so fast he could have retired early. Now, he's fighting for every sale.
On July 1, a new Virginia law will force his company, S&M; Brands Inc., to raise prices on its cigarettes. That's on top of a $2-per-carton increase last year, after other states passed similar laws at the urging of large tobacco companies.
"You're kind of fighting the world," said Bailey, whose family has been in the tobacco business for more than a century.
Few would shed tears for a cigarette maker. But Bailey's reversing fortunes show how the states' $206 billion settlement with major tobacco companies over smoking-related Medicaid costs is altering the industry.
1998 agreement
Critics say the 1998 Master Settlement Agreement, or MSA, has not turned out as expected: big players accused of wrongdoing wound up with market protections while small businesses were forced to pay up.
But few believe the deal will vanish soon.
"It's 46 state attorneys general, the 200 or so wealthiest trial lawyers in the world and the six largest tobacco companies against a bunch of very small businesses who are losing money," said Jeremy Bulow, a Stanford University economics professor.
Under MSA, the big cigarette companies agreed to restrict their marketing, fund stop-smoking efforts and make annual payments to the states over 25 years.
But attorneys on both sides knew the large tobacco companies would raise cigarette prices to make their payments, so they built in protections to prevent companies outside the MSA from taking too much market share.
They also invited other manufacturers to join the MSA by offering favorable deals. Those who did not join had to pay about $4 per carton into escrow accounts, which would be refunded in 25 years if the states didn't sue them over health-care costs.
But S&M;'s owners learned that outsider companies that sold cigarettes in fewer states could get refunds of much of their escrow payments. They also found a bank that provided short-term loans, allowing them to keep prices low while awaiting refunds.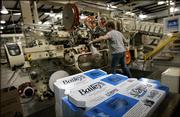 "We outsmarted them," Bailey said.
Once the news got out, the nonparticipating manufacturers' share of the market rose from a fraction of a percent to 8 percent between 1997 and 2003, according to PricewaterhouseCoopers, which audits the MSA.
Different profits
S&M;'s sales soared from just $25 million in 1997 to $141 million last year.
An alarmed National Association of Attorneys General warned states to expect a large decrease in settlement money and more than 40 states passed legislation locking up escrow payments for the entire 25 years.
Now, in the 10 states where S&M; does business, profits are stagnating.
Meanwhile, Philip Morris USA is doing well. In the first quarter of 2005, the nation's largest cigarette maker saw its domestic market share grow to 50 percent, up from 48.3 percent two years earlier.
The new escrow laws also provided opportunities for companies like Liggett Group Inc. and Commonwealth Brands Inc., which joined the MSA under terms that let them pay an average of less than $2 per carton in 2003, rather than $4.
The settlement has put the states in the awkward position of working side-by-side with large tobacco interests.
Changing status
For more than six years, the MSA looked bulletproof - but that may be changing.
On April 15, Liggett, Commonwealth and other companies withheld about $100 million, reducing this year's total settlement payment to $6.3 billion. They cited a little-known clause in MSA that allows reduced payments if the states do nothing while the little guys grab sales.
There is also the possibility that companies could start withholding large sums. Industry leaders told states last month that they want a review of payments because of competition, according to letters obtained by The Associated Press.
The companies could withhold as much as $1.2 billion next year, said Richard Larkin, an analyst with J.B. Hanauer & Co.
Nonparticipating manufacturers also have filed federal lawsuits over the escrow laws and other MSA issues in at least five states, including Kentucky, Oklahoma, Tennessee, New York and Arkansas.
The small tobacco companies have won few fights, but last year, a federal appeals court revived an antitrust challenge in New York, and a district judge issued a preliminary injunction against the state's enforcement of the escrow law.
Iowa Atty. Gen. Tom Miller said that the settlement still makes most companies pay, which increases prices and leads to less cigarette consumption.
"If there's less smoking and we're paid less money, that's the best money we never got," Miller said.
Copyright 2018 The Associated Press. All rights reserved. This material may not be published, broadcast, rewritten or redistributed. We strive to uphold our values for every story published.