Lawrence's Civil War Union veterans aren't forgotten this Memorial Day weekend, thanks to a local historical organization.
More than 230 graves of Union veterans were marked with American flags Saturday morning at Oak Hill, Pioneer and Maple Grove cemeteries. The flags were placed by members of the Samuel J. Churchill Camp No. 4 of the Sons of Union Veterans.
"This is something we wanted to do," said Bob Wandel, secretary-treasurer of the SUV. "Growing up in Pennsylvania I went to Gettysburg many times never realizing I had relatives who were killed there and who fought in the Civil War. I'm trying to remember and learn a lot about the war."
Other SUV members credited Wandel with almost single-handedly creating a list of the Union veterans buried not only in Lawrence cemeteries but throughout Douglas County.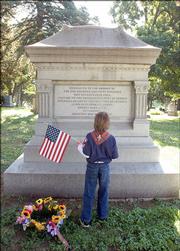 "He has also helped raise, repair and clean over a dozen Union veterans' grave stones," said Craig Sundell, another SUV member and Patriotic Instructor for the Department of Kansas SUV. "His accomplishments are a tremendous example to all patriotic Americans this Memorial Day weekend."
As far as anyone can recall, this may be the first time individual flags have been placed on the graves of Lawrence Civil War veterans, SUV members said. Assisting with the flag-placing were about 10 Boy Scouts and their leaders with Troop 52, associated with the First United Methodist Church in Lawrence.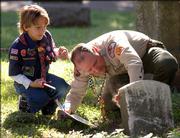 "It's our honor to be here," said Harry Smith, an adult Scout leader whose son, Michael Smith, is a Boy Scout. "We don't mind doing this a bit."
Among the Civil War graves at Oak Hill are three Union veterans who earned the Medal of Honor. One of them was Cpl. Samuel Churchill, the local SUV's namesake. The others were 2nd Lt. Thomas N. Graham and 2nd Lt. Henry S. Hall.
The Civil War veterans' graves are usually easy to find because they have the same type of stone, about an inch thick and 30 to 40 inches tall with a rounded top.
"Most of them probably died here after the war, because those who were killed were usually buried on the battlefield," Wandel said.
The SUV group couldn't afford to buy enough flags to put on the graves of veterans elsewhere in Douglas County, Wandel said.
The Churchill SUV chapter was formed in December 2003. Its members conduct research about the Civil War while honoring the memories of the war's area veterans. The group meets monthly. Their discussions about the war are open to the public. For more information, or to inquire about joining the group, call Sundell, its past camp commander, at 841-7970 or 760-0340.
Memorial Day events
Several ceremonies are planned Monday in the Lawrence area as part of Memorial Day events.
¢ The Kansas National Guard's Col. William Vonderschmidt will be the guest speaker at a ceremony at Memorial Park Cemetery, 1517 E. 15th St. The ceremony, sponsored by Veterans of Foreign Wars Post No. 852, will begin at 11 a.m.
¢ American Legion Dorsey-Liberty Post No. 14 will conduct a ceremony at 10 a.m. Monday at Oak Hill Cemetery, 1605 Oak Hill Ave., and again at noon at Clinton Cemetery.
¢ The legion will be at Oak Hill at 7 a.m. Monday to put out more than 300 American flags. They will be taken down at 4 p.m. The public is invited to help at either time.
¢ Gov. Kathleen Sebelius will preside over a ceremony at 9 a.m. Monday in Topeka on the south lawn of the state Capitol near the Veterans Memorial.
Copyright 2018 The Lawrence Journal-World. All rights reserved. This material may not be published, broadcast, rewritten or redistributed. We strive to uphold our values for every story published.