Garret Anderson drove in five runs with a homer and a three-run double, Steve Finley and Chone Figgins each had three RBIs, and the Los Angeles Angels beat the hapless Kansas City Royals, 14-1, Saturday night.
The Angels won their third straight and improved to a season-best nine games over .500, one night after rallying from a five-run deficit in the ninth inning and beating the Royals, 9-8 in 10. The 23 total runs were just one fewer than the Angels had scored in their previous seven games combined.
Everyone in the starting lineup had at least one hit, helping the Angels record their highest-scoring game of the season. Rookie Dallas McPherson homered for the third straight game and had an RBI single. Figgins went 3-for-4 to extend his hitting streak to 11 games, the longest by an Angels player this season.
The defending AL West champions entered this series with an AL-worst .295 on-base percentage, but have feasted on a Royals pitching staff that has a 6.77 earned-run average in its last 16 games.
Kelvim Escobar (2-2) allowed a run and four hits over five innings in his first start off the disabled list. The right-hander, who missed two turns in the rotation because of a bone spur in his elbow, improved his career record against Kansas City to 8-2.
Chris Bootcheck allowed two hits over the final four innings for his first career save.
Ruben Gotay had an RBI single for the Royals, who have lost five straight overall and eight in a row on the road. They are off to a franchise-worst 13-36 start, and are 5-11 since Bob Schaefer was promoted from bench coach to interim manager following Tony Pena's resignation on May 11.
Ryan Jensen (1-1) was charged with seven runs and eight hits over 31â3 innings in his second start since replacing injured first baseman Ken Harvey on the roster.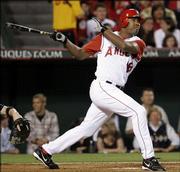 Figgins chased Jensen in the fourth with a two-run single that increased the Angels' lead to 6-1. Finley added a sacrifice fly against Leo Nunez and Anderson followed with his fifth homer.
Anderson, who entered the game in a 4-for-24 rut, made it 12-1 in the fifth with his bases-loaded double down the right field line against Nunez. The five RBIs put Anderson within 15 of the 1,000 mark, and just four away from Tim Salmon's franchise record of 989.
Notes: The Royals are 1-31 when they score fewer than six runs. ... Escobar missed his scheduled start against the Royals on April 9 because of a sprained elbow. ... The Angels will learn by Monday night if RHP Jered Weaver, their No. 1 draft pick last year, will sign or re-enter the draft. The only time the Angels failed to sign a player they chose in first round of the June draft was in 1969, when SS Alan Bannister turned them down.
Copyright 2018 The Lawrence Journal-World. All rights reserved. This material may not be published, broadcast, rewritten or redistributed. We strive to uphold our values for every story published.