He's Mr. Right for Yearwood
Bakersfield, Calif. - Garth Brooks stole the show Wednesday night when he got down on one knee in front of 7,000 fans and proposed to fellow country music star Trisha Yearwood.
She said yes - and the crowd went wild.
The occasion was the "Legends in Bronze" event at Buck Owens' Crystal Palace, where 10 larger-than-life bronze statues honoring country stars were unveiled, including one of Brooks.
After his big moment, Brooks popped the question.
The marriage will be the second for Brooks, who has three children, and the third for Yearwood, said Brooks' spokeswoman Nancy Seltzer.
Brooks, 43, is credited with widening the genre's appeal in the 1990s by merging traditional country with honky tonk, pop, folk and rock. His "Ropin' the Wind" album was the first such country recording to debut at the top of the pop music charts. His latest album, "Scarecrow," went triple platinum.
Yearwood, 40, was named the Country Music Awards female vocalist of the year in 1997 and 1998. Her latest album is "Jasper County."
Other musicians honored with bronze statues were Buck Owens, Willie Nelson, Merle Haggard, Hank Williams, Bob Wills, Johnny Cash, Elvis Presley, George Jones and George Strait.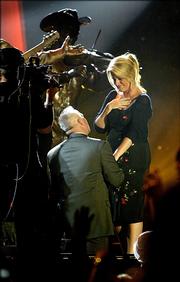 Carey has 16th chart-topper
New York - Mariah Carey is celebrating her Sweet Sixteenth.
The diva notched her 16th No. 1 hit on the Billboard Top 100 singles chart this week with the ballad "We Belong Together," off the album "The Emancipation of Mimi," which has sold more than 2 million copies after less than two months on the charts.
Only the Beatles and Elvis Presley, who had 20 and 18 No. 1 singles respectively, have had more chart-toppers.
"I don't know that it's actually sunken in yet," Carey said Thursday.
It's just the latest high note for Carey, who's been on the comeback trail with "Mimi," her first album since the 2002's "Charmbracelet."
That album, which didn't have blockbuster sales, came a year after the "Glitter" flop movie and soundtrack, and her breakdown from exhaustion.
Since its release in April, when it debuted at No. 1, "Mimi" has been in the top five every week.
Jolie denies Pitt rumors
New York - In a new interview, Angelina Jolie says she "thinks the world" of Brad Pitt - but never slept with him.
"We got on great," Jolie says of her "Mr. and Mrs. Smith" co-star in the July issue of Marie Claire. But as far as anything past friendship, she says, "absolutely not."
"To be intimate with a married man, when my own father cheated on my mother, is not something I could forgive," she says. "I could not, could not look at myself in the morning if I did that."
Pitt, 41, separated from Jennifer Aniston in January after 4 1/2 years of marriage. Aniston, 36, filed for divorce in March, citing irreconcilable differences.
Tabloids immediately speculated on the Jolie factor. When photos of Pitt, Jolie and her 4-year-old son Maddox walking together on a beach in Africa were published in April, the tabs took it as proof of a romance.
Instead, Jolie says she's single, and concentrating on her son.
"I am not dating anybody. I think the next man I get involved with would have to become Mad's father, and that's a high bar as far as I'm concerned. I'm not anticipating that coming anytime soon."
Her marriages to Jonny Lee Miller and Billy Bob Thornton ended in divorce.
Judge blocks evidence showing Jackson's genitalia
Santa Maria, Calif. - The judge in the Michael Jackson molestation trial kept a graphic piece of evidence out of the sight of jurors when he barred prosecutors Thursday from showing photographs of the pop star's genitalia.
In another ruling, the judge said prosecutors could play a videotape of the accuser's original police interview in 2003 in a bid to show that the boy's story has been consistent. Defense lawyers said that if the prosecution showed the tape, the defense would want to call the boy back for questioning. They also may call the boy's mother.
The attempt to admit the genitalia photographs stems from a 1993 molestation investigation of Jackson. When prosecutors were trying to gather evidence against the singer then, they served a subpoena at his home that allowed them to photograph his genitalia.
They then had the accuser draw a picture of what he thought the genitalia looked like. Prosecutors claimed the picture contained a blemish that was unique to Jackson's anatomy.
Birthdays
Rapper Andre 3000 (Outkast) is 31. Former Secretary of State Henry Kissinger is 82. Actress Lee Meriwether is 70. Actor Louis Gossett Jr. is 69. Actress Peri Gilpin is 44. Actor Todd Bridges is 40.
Copyright 2018 The Lawrence Journal-World. All rights reserved. This material may not be published, broadcast, rewritten or redistributed. We strive to uphold our values for every story published.