Joe Morgan has spent two years working at Watson Library, helping patrons find the right books and other information.
In doing so, he joins a large number of Kansas University students who have found work on campus.
"I don't have to flip burgers or anything," said Morgan, a senior from Wichita. "It lets you interact with people from your classes. You're more likely to run into someone you know."
Ann Hartley talks to plenty of students like Morgan, who either need a job to pay for college or want one to make college life a little more comfortable.
Hartley is associate director of the University Career Center, the campus department in charge of both helping students find work while they're in school and aiding their job searches when they graduate.
Hartley said the initial decision of whether to get a job comes down to a balancing act that also involves how heavy students' course loads are and how involved they plan to be with other campus activities.
"A lot of students I talk to need money for living expenses, especially the ones who are putting themselves through school," Hartley said. "Those are the ones who tend to work more than they should."
Hartley suggests freshmen should ease into work if that's possible.
Once the decision to work is made, the University Career Center's Web site - www.ucc.ku.edu is a hub of information about job openings. She said about 1,500 jobs were posted on the site between July 1, 2004 and April of this year.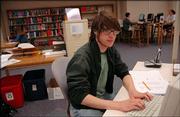 The most common on-campus employers are the libraries, which need workers to sort and shelf books and help patrons; residence halls, which need front-desk workers; and the Memorial Unions, which now operate all food services, including those at the residence halls.
Students who are U.S. citizens can work up to 30 hours a week on campus. There are no restrictions for off-campus employment.
A new feature to the KU Web site allows students to apply for jobs online. Because it's easier to apply, more students are doing it. Hartley said a recent office job opening in her office drew 43 applicants - more than 20 who would have applied the old-fashioned way.
"It's fairly competitive to get the on-campus jobs," she said.
Hartley said some campus jobs for the fall will be posted this summer, with many more popping up in August.
Morgan said he's found his bosses at the libraries easy to work with.
"The campus employers know you're involved with other things," he said. "They know you're primarily a student and an employee second."
Copyright 2018 The Lawrence Journal-World. All rights reserved. This material may not be published, broadcast, rewritten or redistributed. We strive to uphold our values for every story published.