When overseeing plans for the Booth Family Hall of Athletics, Kansas University officials were adamant: It couldn't, under any circumstances, tarnish the charm of venerable Allen Fieldhouse.
On Saturday, with the Booth family, KU benefactors, head coaches and KU administrators present on the fieldhouse's east side, the first sketches of the future appendage were made public after a ceremonial groundbreaking.
It's apparent a chance to get architecturally creative with the new building politely was declined. Now, if everything goes according to plan, the 26,000-square foot Hall of Athletics won't look like an addition to the 50-year old fieldhouse.
"We had one mission from the chancellor and from (athletic director) Lew (Perkins) -- to make the building look and blend with Allen Fieldhouse," associate athletic director Sean Lester said.
"Is there anything outstanding? No. What's outstanding is that it's going to blend with the building."
Work has been in progress for almost two weeks now, but more than 15 members of the Booth family were present for Saturday's ceremony.
The leaders of the financial generosity, brothers David and Mark Booth, spoke about dedicating the building to their parents, Gilbert Booth, who died in 1985, and Betty Booth, who died in 1995.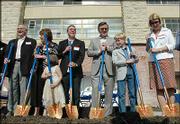 The Booth siblings, including sister Jane Booth Berkley, grew up down the street from Allen Fieldhouse on Naismith Drive, though none now live in Lawrence.
"We literally grew up a stone's throw away, so the emotional component of this is hard to overstate for us," said Mark Booth, a businessman who lives in London. "Our parents were involved in Kansas basketball. They had very few things they owned, but one thing they owned was two tickets and chair-back seats to Allen Fieldhouse. I think they'd be thrilled to have this moment, and I think it's great for the University."
In all, the Booth family donated more than $5 million toward the construction of the Hall of Athletics, which has a total cost of around $8 million.
The addition, which KU hopes will be completed before the first basketball game in November, will feature four display areas to highlight KU athletics history in all sports and a new ticket office and a merchandise store. It was designed by the HOK Sport + Venue + Event architecture firm of Kansas City, Mo.
"The stones will be the same type, same look, same feel. The windows will all match," Lester said. "The goal is to make it look like it's been here 50 years like Allen Fieldhouse has."
More than a dozen Booth family members grabbed special shovels to take a ceremonial dig Saturday morning. The siblings plan to return for the grand opening this fall.
"Absolutely," said David Booth, who now lives in Los Angeles. "I wouldn't miss it.
"Functionally, it'll really add a lot," he said. "I think the fieldhouse is the most frequently visited building on campus, and I think this will only increase it."
Copyright 2018 The Lawrence Journal-World. All rights reserved. This material may not be published, broadcast, rewritten or redistributed. We strive to uphold our values for every story published.