There are fewer farewell parties at the Lawrence Police Department these days.
Detective Troy Squire thinks he knows of a big reason why. A new compensation package approved by city commissioners last year made a concerted effort to improve the pay of police officers to better compete with wages offered in surrounding communities.
"The new pay plan did benefit officers pretty much across the board," said Squire, who is the vice chairman of the Lawrence Police Officers Assn. and a nearly nine-year veteran of the force. "Before, there was a lot more talk about people (officers) trying to go to other departments. But now, I think we're starting to get that nipped."
A new survey by the city's personnel department showed that the starting hourly wage of $17.63 for Lawrence police officers was now 7.7 percent above the average starting wage of six area cities surveyed. The survey polled departments in Overland Park, Olathe, Lenexa, Shawnee, Topeka and Lee's Summit, Mo.
That's an improvement over a similar survey in 2003 that found starting wages were 3.6 percent below the average area salary.
Other police positions fared even better in the most recent survey. Lawrence detectives, with a starting hourly wage of $23.13 were 25 percent above the area average wage. Sergeants, with a starting hourly wage of $26.83 were 20 percent above the average.
City Manager Mike Wildgen said he thought the survey results were generally good news, though he said it wasn't the city's goal to be significantly above the area's average wage. But Wildgen said when it came to police officers, the city was particularly keen on making sure they stayed on staff because they were among the more costly city employees to train.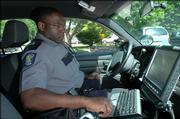 "We definitely want to retain people," Wildgen said. "We put a lot of money into training people, and we want to make sure we don't waste our money by training them and then watching them go to another city."
The survey found that wages for other city employees were still lagging. Only 40 percent of the starting wages for city positions were above the average wage of the six cities. Frank Reeb, the city's director of administrative services, said the city's lower pay grades were the most in need of adjustment.
He said city pay grades that included sanitation workers, secretaries, entry-level sewer plant employees, mechanics, and parks and recreation maintenance workers were between 2.9 percent and 6.6 percent below the area average. The two pay grades, with a total of 275 employees, are the city's two largest pay categories. The city has a total of 735 full-time employees.
"The survey shows that there are some areas that we need to work on to meet our goals," Reeb said.
Reeb's department is recommending an across the board 3 percent pay increase for city employees, with the hope that other area cities will approve smaller increases, thus lessening the gap.
Whether city commissioners will approve a 3 percent pay raise in a tight budget year is an open question. Mayor Boog Highberger said he would push for the pay raise.
"This is one of my priorities," Highberger said. "Doing this may make it more difficult to do other things, but I think we need to do it. I think the city ought to be a model employer, and part of that is decent wages."
But City Commissioner David Schauner said he did not think the city could afford a 3 percent salary increase without raising property taxes, which he opposes. Plus Schauner said he was concerned about how the city handed out pay increases. For example, because of a labor agreement that the city signed with the police union, any wage increase given to any group of city workers must also be given to police officers, even though their salaries are already above the area averages.
"I'm not trying to single out the police," Schauner said. "I just think there is a systemic problem in how one group bootstraps its salaries to another group's salaries."
The police department is one of two groups of city employees that are part of a collective bargaining process. Lawrence-Douglas County Fire & Medical is the other. The city survey found starting wages in that department were about 9 percent higher than the area average for the lowest level firefighters but were about 19 percent below the average for midlevel firefighters.
Copyright 2018 The Lawrence Journal-World. All rights reserved. This material may not be published, broadcast, rewritten or redistributed. We strive to uphold our values for every story published.