Los Angeles — Plenty of gadgets shown at this year's Electronic Entertainment Expo had absolutely nothing to do with the next generation of video game consoles from Microsoft Corp., Nintendo Co. and Sony Corp.
The new Xbox 360, PlayStation 3 and Revolution eventually will get out. But until that distant day, visitors happily made do with a treasure trove of nifty video game gear.
A brief look at some of the more eye-catching stuff:
Gizmondo
The hand-held wars of late have focused on Sony's sleek PlayStation Portable and the interactive Nintendo DS. The Gizmondo from Tiger Telematics Inc., however, intends to be a serious third contender if its able to deliver on its innovative promise.
The Gizmondo looks to be the Swiss-Army knife of hand-helds with its unique blend of technology that includes GPS satellite tracking, a digital camera and a gyroscope. Oh, and it plays digital music, movies and video games on a 2.8-inch color screen, too. It's already available in Europe and should appear stateside in August.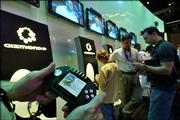 Prices will start at $230.
Karaoke Revolution Party
For the first time, Konami Digital Entertainment-America is combining two franchises in Karaoke Revolution and Dance Dance Revolution into one game for the GameCube, PlayStation 2 and Xbox: Karaoke Revolution Party.
The result looks primed for parties as individuals sing and dance - or try to, anyway - against as many as seven others. PS2 owners with an EyeToy USB camera peripheral will be able to put their skills on the TV screen, while subscribers of Microsoft's Xbox Live multiplayer gaming service can download new songs. It's set for a fall release.
No price has been announced.
QMotions-Baseball
Clicking your computer mouse is hardly the most authentic way to play a few innings of a baseball video game. Why not swing a real bat?
The QMotions-Baseball system replaces the game pad, letting players use one of several bat choices. The setup includes a special bat collar that wirelessly sends swing movement to a home plate receiver, which is plugged into an Xbox or PC. The device, available this month, works with big league baseball games including "EA Sports MVP Baseball" and "ESPN Baseball."
Cost: $80.
Theater Experience PSP
Anyone who's drained a Sony PSP battery after watching a few movies will appreciate the Theater Experience PSP from Nyko Technologies. The device goes beyond extending the battery life by five hours; it also boosts the PSP's rather tinny audio with a more robust set of stereo speakers, all wrapped in a flip-open aluminum carrying case. One of the most welcome inclusions is the least techie: an adjustable stand. No more straining wrists trying to hold the PSP at just the right viewing angle for hours on end. Look for it in June.
Cost: about $70.
PowerPlay 5.1 Media Chair
As its name suggests, the Empower Technologies PowerPlay 5.1 Media Chair chair is the center of a surround sound stereo system that'll make explosions in "Halo 2" rumble through a player's entire body.
Cost: $999.
Logitech Cordless Precision/Attack Controller
Wireless controllers for existing consoles have been available for quite a while now, but two new offerings from Logitech bring the affordable freedom of tetherless gaming to the PlayStation 2 and Xbox.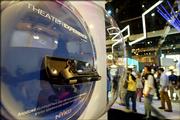 The semi-translucent blue Precision is compatible for the PS2, while the see-through green Attack works with the Xbox. So what's new this time around? Logitech says the Precision and Attack will last 300 hours on just two AA batteries. And no tripping over cords anymore.
Cost: $30 (Precision); $40 (Attack).
Saitek Pro Gamer Command Pad
Coming in September, this keyboard ad-on should appeal to fans of first-person shooters, or any computer game where a nimble keyboard is needed to get around. The accessory looks like a separate numeric keypad with a special thumb rest, but Saitek likely didn't have number-crunching in mind. The keys are laser-etched and glow blue, which should make it easier to see what keys are being pounded during intense, late-night "Doom 3" battles.
Cost: $40.
Copyright 2018 The Associated Press. All rights reserved. This material may not be published, broadcast, rewritten or redistributed. We strive to uphold our values for every story published.