New York — To Donald Trump, the proposals for the replacement for the World Trade Center look like a junkyard. His solution? Rebuild the twin towers, more or less.
Standing in the lobby of his Trump Tower on Fifth Avenue, the developer-turned-TV-star on Wednesday presented a model of his own envisioned towers, reflecting the original shape of the skyscrapers that fell Sept. 11, 2001.
The towers he advocates would be 111 stories tall -- one floor taller than the lost towers.
Plans for the site, to be dominated by a 1,776-foot Freedom Tower, have been stalled lately because of security concerns, though Gov. George Pataki assured New Yorkers last week that the project was not losing momentum.
"Failure to rebuild is not an option," the Republican governor said in a speech in downtown Manhattan.
But Trump had little use for the futuristic, angular Freedom Tower mode. The plan "looks like a junkyard, a series of broken-down angles that don't match each other. And we have to live with this for hundreds of years?" he said. "It is the worst pile of crap architecture I've ever seen in my life."
However, Trump said he was leaving it up to developer Larry Silverstein, who owns the lease on the World Trade Center site, and the Port Authority of New York and New Jersey, which owns the land, to execute the design first introduced last year by engineer Ken Gardner.
"I only have the power of persuasion," Trump said. "It's a very simple power, but sometimes it can be very strong."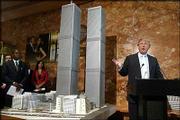 Speaking for Silverstein, Howard J. Rubenstein said Trump was a friend, but "Silverstein's only concern right now is designing a safe and spectacular Freedom Tower in keeping with the well-established master plan for the site."
Though it would be taller than the twin towers, the Freedom Tower would have much of its top one-third given over to airy latticework and a spire emitting light into the night. Only around 70 floors would be usable office space.
Trump described the existing design as "essentially a skeleton" at the top. "If we rebuild the World Trade Center in the form of a skeleton, the terrorists win."
Trump also left room for an alternative to his plan, if tenants can't be found for the new towers. "If for some reason, it can't be built, because there is a possibility that people do not want to be in any of the buildings on the site, then what we should do is ... build a great memorial park," he said.
Copyright 2018 The Associated Press. All rights reserved. This material may not be published, broadcast, rewritten or redistributed. We strive to uphold our values for every story published.