When Robi Damelin, an Israeli, and Nadwa Sarandah, a Palestinian, talk to audiences about the horrible consequences of the bloody conflict between their peoples, they speak with authority.
Both have lost family to the seemingly endless fighting.
"To lose a child in any manner, your life is never the same again. And either you go out on a path of revenge, or you use this to try to prevent other families from going through the same thing," said Damelin, 61, who lives in Tel Aviv.
Her 28-year-old son, David, was killed by a sniper in 2002 while serving in the Israeli military reserves in the occupied West Bank.
Damelin and Sarandah -- whose 48-year-old sister Naela was fatally stabbed in 1999 in the streets of Jerusalem -- will visit Lawrence on Thursday to share their experiences of loss, as well as their hopes for an end to the bloodshed between Israelis and Palestinians.
Their program, "Two Women, One Vision: Peace and Co-existence in Israel/Palestine," will be at 7:30 p.m. in Alderson Auditorium at the Kansas Union.
The event, which is free and open to the public, has already led to tentative bridges being built between two faith communities in Lawrence.
The program's primary co-sponsors are the Islamic Center of Lawrence, 1917 Naismith Drive, and the Lawrence Jewish Community Center, 917 Highland Drive.
Thursday's program marks the first time the Islamic and Jewish centers have worked together to sponsor an event.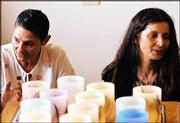 Promoting reconciliation
The women's visit to Lawrence is the only Midwestern stop on their current speaking tour of the United States on behalf of an organization called the Parents Circle-Families Forum.
This group of about 500 people -- all of whom have lost immediate family in the fighting between Israelis and Palestinians -- seeks to peacefully solve the ongoing conflict through dialogue and mutual understanding.
The group calls on all parties to work together, person to person, promoting reconciliation as the only way to reach co-existence and peace.
Damelin and Sarandah arrived in the United States last week and will participate in a series of programs across the country through June 6.
The program "Two Women, One Vision: Peace and Co-existence in Israel/Palestine" will be at 7:30 p.m. Thursday in Alderson Auditorium at the Kansas Union. To learn more about the Parents Circle-Families Forum, the group that has brought Damelin and Sarandah to the United States for a speaking tour, go online to www.theparentscircle.com.
Their tour will take them to Washington, D.C., where they were reached for a telephone interview Monday, then to New York City, Lawrence, San Francisco, Los Angeles and Dallas.
Kansans for a Just Peace in the Middle East, a Lawrence group of about 20 people, arranged the women's appearance here.
Kansas University's peace and conflict studies program, an academic minor within the humanities and Western civilization program, is playing host to the event.
Several Lawrence churches and faith communities, apart from the Islamic and Jewish centers, also are sponsoring the program.
Turning away from hatred
Damelin and Sarandah both said they suffered terribly after the violent deaths of their loved ones.
"Yes, of course -- I couldn't function. It was a great loss for me. I couldn't take it, and I couldn't believe it. I still don't want to," said Sarandah, a native Palestinian and Muslim who lives in East Jerusalem.
What will she share with her Lawrence audience?
"Exactly what happened to me and how people can evolve, actually, from hatred and anger onto the path we've taken. One realizes it's the only way. Yes, of course it (the conflict) has to end, because otherwise there is no life, neither for Israelis or Palestinians," Sarandah said.
Damelin said she is active in the Parents Circle-Families Forum in order to honor her son, who was earning a master's degree in the philosophy of education at Tel Aviv University.
"For me, the work that I'm doing is very much inspired by who David was, because he was part of the peace movement and part of the officers who did not want to serve in the occupied territories. And so for me it's almost a continuation of motherhood," she said.
Their American audiences often seem amazed by the women's ability to turn away from hatred and work toward a peaceful solution to the conflict, Damelin said.
"Many people think that if you lose a member of your family, you would go out on the path of revenge. Instead of that, we are talking in another language, which is unexpected, and therefore very powerful. We want to stop the cycle of violence," she said.
Copyright 2018 The Lawrence Journal-World. All rights reserved. This material may not be published, broadcast, rewritten or redistributed. We strive to uphold our values for every story published.