Neither stiff winds nor a gut-checking final hill could separate a group of 25 women cyclists during the road race stage of the National Collegiate Cycling Championships on Saturday at Perry Lake.
So with just seconds to spare, Brooke Miller made one final surge that pushed her over the finish line first with a time of 2:42.03 in the 56.4-mile event.
"I started my sprint way back there, so I'm kind of surprised I had enough in the tank to still take the title," said the University of California-Santa Cruz graduate student.
Even more impressive to Miller was the kind of competitive spirit illustrated by the cluster of Division One women.
"I think it's hard to get a lot of women to come out and race. There are a lot of factors involved with cost, time and just getting the word out," Miller said. "But it's still an up-and-coming sport with a lot of potential to tap into."
The differences between men's and women's collegiate cycling are almost as obvious as the number of participants -- there are about twice as many male cyclists -- who traveled to Lawrence this weekend for the three-day collegiate nationals.
But female riders are adamant their sport is far from floundering.
"There are some amazing women athletes out there. While there is no one female rider that has the iconic status as Lance Armstrong, I think there are a few female riders that will stand out really soon," said KU's lone female cyclist, Kim Kissing.
Kissing -- who was unable to compete in Friday's criterium in downtown Lawrence -- shook off a bit of early road rash Saturday and crossed the finish line in just over three hours.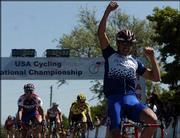 Kissing also needed medical assistance because of severe dehydration after completing the road race.
She said women cyclists relied more on inner strength than the men.
"You have to have a woman that really wants to do this sport and is completely dedicated to it, because you're not going to get a whole lot of support at first," she said.
It probably also wouldn't hurt if more crossover athletes came into the sport of cycling, another competitor said.
"I think that because there are a lot less women in cycling, if you have a real good aerobic base, then you have a good chance of being successful from the start," said Mara Abbott a freshman from Whitman College who won the women's Division Two race Saturday.
On South Lawrence Trafficway (Iowa Street to U.S. Highway 40)6:30 a.m. -- Trafficway closed to automobiles7:01 a.m. -- Trial (12.5 miles) starts with two-minute intervals between teams and 10-minute gap between categories11 a.m. -- Trafficway reopens to carsNote: Awards ceremony scheduled immediately after finish at 75th Street Brewery, 3512 Clinton Parkway.
Abbott's past swimming experience certainly has paid off, considering she has been cycling only since March.
Miller was a volleyball player. Kissing ran cross country, and Friday's criterium winner, Amber Rais, who finished fourth in the road race, swam at Stanford before she started cycling.
"Even though you might not have all the cycling skills to be successful right off the bat, it's pretty easy to pick up if you have a solid athletic history," Abbott said.
But crossovers are not limited strictly to women.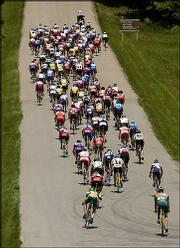 KU's Brian Jensen, a former Jayhawk cross-country runner, continued to boost his cycling stock Saturday when he took third in the Division One race.
Jensen, who led Friday's criterium on the final lap before finishing 14th, just barely was beat out by Penn State's Bobby Lea and Jake Rytlewski of Marian College -- who finished .01 of a second faster than Jensen's time of 3:24.34 in the 84.6-mile event.
"I'm definitely happy," Jensen said. "It was a lot different than yesterday because the hills separated things a bit more and allowed us to break away."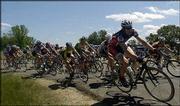 Western Washington University cyclists Nicholas Clayville and Brian Nelson went 1-2 in the men's Division Two race.
Today, the national cycling spectacle will wrap up with a team time trial on the South Lawrence Trafficway. The stretch of road between Iowa Street to U.S. Highway 40 will be closed to automobiles from 6:30 to 11 a.m.
Copyright 2018 The Lawrence Journal-World. All rights reserved. This material may not be published, broadcast, rewritten or redistributed. We strive to uphold our values for every story published.