MacKenzie Flory has been coaxing, pulling and shoving cattle around show rings since she was 7, starting with the Douglas County Fair.
Now she's hit the big time, with a big animal.
Last month, just before "Kenzie" turned 13, her 1,000 pound-plus Angus calf Rosie was named grand champion in the Western Regional Junior Angus Show in Reno, Nev. It's considered by many to be the third-toughest cattle competition in the country.
Rosie, whose official name is EXG Primrose PO54 R3, beat out more than a hundred other Angus heifers -- girl cows -- for the title. The competition came mostly from Oregon, Texas, California, Idaho and Montana, with several entries from Oklahoma, Kansas and Iowa.
Kenzie is the daughter of Wendy and Jason Flory, who work land on both sides of U.S. Highway 59 in rural Baldwin. The Florys didn't decide to enter the show "until the last minute."
"Kenzie's first competition was around 9 a.m.," Wendy Flory recalled. "When the finals came at 5:30, I was a nervous wreck."
She headed for the top of the grandstand to watch the judging through her video camera.
Kenzie, a member of the Lone Star 4-H Club, bought her heifer in January at the Express Genetics Sale in Yukon, Okla.
"Dad picked out about 10 calves that he liked and left the final choice up to me," Kenzie recalled. Jason Flory did the bidding.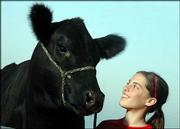 The Express Sale encourages youngsters to get involved in raising cattle by awarding points toward college scholarship money. Each success in sanctioned judging rings at national, state and county competitions puts more cash toward Kenzie's future.
Jake Scott, manager of the Rolling R3 Ranch, an Oklahoma contributor to the Express sale, said Rosie's victory in Reno contributed a few thousand dollars to Kenzie's interest-bearing account.
"The fund will be there for Kenzie when she reaches 18 and will apply to any junior college or university," Scott said.
Come July, one of Kenzie and Rosie's destinations will be in Denver at the National Junior Angus Show, followed closely by the Douglas County Fair.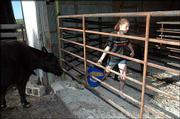 Rosie's Nevada win made their Angus heifer a more valuable asset to the Flory herd.
"We've already gotten some calls from people who are interested in her calves," Jason Flory said.
The Douglas County Fair takes place July 30 through Aug. 7.
Copyright 2018 The Lawrence Journal-World. All rights reserved. This material may not be published, broadcast, rewritten or redistributed. We strive to uphold our values for every story published.