No charges to be filed in motorcycle fatality
Douglas County Dist. Atty. Charles Branson said his office would not file charges in the case of a Lawrence man killed in a motorcycle wreck in November.
Merle Zuel, stepfather of the victim, 23-year-old Matt Thompson, said he was upset with the decision.
"While I am sympathetic to the young lady who caused the accident, I can't help but feel she cheated the system or the system failed," he said.
Thompson was killed Nov. 20 when a pickup truck hit his motorcycle on Sixth Street.
Branson said both his office and the Jefferson County attorney's office reviewed the case before deciding not to file charges against the driver of the pickup, Heather Nguyen, 22, Lawrence.
Kansas courts have decided something as simple as running a stop sign is not gross negligence, Branson said. He said Nguyen did stop, but she just failed to see the motorcycle.
Cycling
Bicycle race to close some downtown roads
Portions of Massachusetts, New Hampshire and Vermont streets and Seventh through 10th streets will be closed for about seven hours -- from 8 a.m. to 3:15 p.m. -- today for the criterium race of the 2005 Collegiate Road National Championships.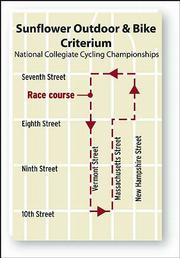 City parking lots on the east side of the 700, 800 and 900 blocks of Vermont Street and the west side of the 700 block of New Hampshire Street also will be closed during today's race.
Additionally, the South Lawrence Trafficway will be closed between U.S. Highway 40 and Iowa Street from 6:30 a.m. to about 11 a.m. Sunday.
Traffic
City to hold discussion on possible roundabout
City engineers want to hear from motorists who regularly travel through the intersection at 19th and Louisiana streets.
Engineers will conduct a public meeting at 7 p.m. Monday at the Lawrence High School cafeteria, 1901 La.
City commissioners previously had discussed building a roundabout at that intersection to better control traffic. Commissioners stopped short of giving a roundabout final approval but said they wanted the intersection studied more.
Members of BG Consultants, along with engineers from the city's public works department, will be at the Monday meeting.
Terese Gorman, city engineer, said no specific plans for the intersection have been developed.
"We're just wanting to hear concerns and observations from people who drive the intersection on a regular basis," Gorman said.
Gorman said work on the project wouldn't begin before summer 2006.
Body recovered from Jefferson County creek
Officials in Jefferson County announced Thursday night that they had recovered a body from a creek that feeds into Perry Lake.
Officers from the Jefferson County Sheriff's Department and the Kansas Department of Wildlife and Parks recovered the body from Slough Creek about 6 p.m. Thursday. The deceased was a white male; no further details have been released.
Slough Creek feeds into the south end of Perry Lake from the northwest.
Request to withdraw plea in sex offense denied
A judge has turned down a Lawrence man's request to withdraw a plea in a case involving allegations he sexually abused a 15-year-old boy.
Nathan N. Loukedes, Lawrence, age 25 at the time of the offense in late 2003, entered no contest pleas in October to attempted criminal sodomy, indecent solicitation of a child and sexual exploitation of a child. He later sought to withdraw the plea based on a claim he was enticed by the victim.
Loukedes was scheduled to be sentenced today before Judge Robert Fairchild, but the sentencing is expected to be postponed.
Memorial Park Cemetery focus of petition meeting
A group trying to start a petition drive to protest poor maintenance of Lawrence's Memorial Park Cemetery is meeting Sunday.
The public meeting will run from 2 p.m. to 4 p.m. at the Lawrence Memorial Hospital auditorium. The group, led by Lawrence resident Nina Bair, is seeking comments from people concerned about operations and upkeep at the cemetery.
Problems at the cemetery came to light in August when about two dozen people told the Journal-World the cemetery was mowed infrequently. Throughout the summer and fall, complaints arose of graves left unmarked for extended periods because the company was not installing tombstones in timely manner.
Houston-based Mike Graham & Associates settled with the Kansas Attorney General's office last month, but the settlement largely did not address maintenance issues at the cemetery.
Copyright 2018 The Lawrence Journal-World. All rights reserved. This material may not be published, broadcast, rewritten or redistributed. We strive to uphold our values for every story published.