Lynne Sander insisted she was following God's law, not practicing racial discrimination. Jurors disagreed.
An all-white jury on Thursday sided with an interracial Lawrence couple who alleged Sander illegally refused to rent them a townhome in 2002. Sander claimed she turned Wayne Jackson and Adrianne Morales down at Villa 26 Townhomes, 2109 W. 26th St., because the Lord recently had told her she shouldn't rent to unmarried couples.
But Sander rented to five unmarried white couples the same year, the couple's attorney pointed out during trial.
"We're so happy that we won, just to get the point across," the 24-year-old Morales said by phone after the verdict. "It's just really good that people know the way they treated us."
Morales is Hispanic and Jackson, 26, is black. Jurors awarded them each $1,695 for emotional damages and increased rent they had to pay at a different apartment.
It was less than the $10,000 each the couple had sought, but jurors also ordered Sander and the complex's owners, Rex and Gail Youngquist, to pay punitive damages in an amount to be determined later.
"I'm not a racist. I am not," Sander said after the verdict.
She said the verdict would have changed if other information about the case would have been allowed at trial. For example, her attorney, Chris Miller, tried to enter a security officer's written report that Jackson once accused him of racism.
Judge Stephen Six found the report wasn't relevant because Sander didn't know about it at the time she turned the couple down.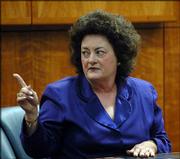 Sander testified the reason she didn't acknowledge Jackson's presence when he came with Morales to look at the apartment was that she was deep in prayer. She said she was so concerned about unmarried couples living in the complex that she would drive around it repeatedly pretending it was the Biblical city of Jericho.
Sander said that after her epiphany, she didn't want to try to oust unmarried white couples that already were living there. One unmarried white couple was allowed to rent after Morales and Jackson were turned down because of an office mistake, she said.
Morales and Jackson had the backing of the city's Human Relations and Human Resources department, which brought suit against the landlords. Private-practice attorneys Bruce Plenk and Max Kautsch argued the case for the city on behalf of the couple.
"Basically, Ms. Sander was making things up as she went along," Plenk said during his closing argument. "Sometimes her religious beliefs were really strong in guiding her, and other times they sort of fell by the wayside."
At the end of his closing argument, Plenk held up a book of the city's fair housing laws.
"This is what she had to follow, not what she read in the Bible," he said.
Copyright 2018 The Lawrence Journal-World. All rights reserved. This material may not be published, broadcast, rewritten or redistributed. We strive to uphold our values for every story published.