Jay Ku has the perfect name for a Kansas University student studying on Mount Oread.
However, Ku's smarts landed him at Harvard, where next month he will graduate with a degree in government from the Ivy League school.
This weekend the Kansas City, Mo., native will return home so he again can climb on his bike where his cycling career began.
"I'm super-excited that I can close out my collegiate cycling career back where it all started," said Ku, one of about 350 college cyclists from across the country coming to Lawrence this weekend to take part in the three-day National Collegiate Cycling Championships -- which kick off at 8:15 this morning with a criterium in downtown Lawrence.
However, unlike most of the other participants, Ku's cycling career could earn him cash in the future. That is if the 22-year-old can maintain the level of maturation that has transformed the late starter into one of the sport's elite in just five years.
While Ku technically is the only member representing Harvard this weekend -- the oldest club cycling team in the country -- Ku also rides for Team TIAA-CREF, the nation's premier developmental cycling squad.
The 18-member team consists of riders 18-24 years old who participate in national and international races while preparing to become professionals.
"It's kind of like the farm system in baseball," TIAA-CREF founder Jonathan Vaughters said. "Unlike when I was starting out my career before professional athletes were used in the Olympics, there are just not very many opportunities for young riders in the United States.
"The goal for our organization is to develop a handful of U.S. riders that are capable of taking the torch from the top riders such as Lance Armstrong when their careers are complete and continue having the same elite level of success."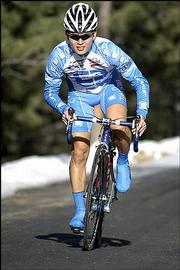 Vaughters knows what it takes to reach such heights, too.
He was a teammate of Armstrong's for three years, and also won the fifth stage of the 2001 Tour de France before he decided to end his 10-year pro career three years ago and concentrate his cycling efforts on the development of future riders.
"I think the great thing about a big national race, like this one happening in the Midwest, is that it just goes to show how far this sport has extended in popularity the last decade -- especially the United States," said Vaughters, who lives in Denver.
"Who would have thought the world's greatest champion (Armstrong) would be this skinny kid from Texas. There are kids out there that can be the next great rider, maybe even someone competing this weekend."
If nothing else, Lawrence residents will at least get to witness the biggest cycling race in the city's history.
Not only will today's criterium close off streets downtown for nearly seven hours with riders speeding around at 30 to 35 mph past shops, but the cycling extravaganza will continue with two completely different events the next two days.
8 a.m. -- Downtown streets close; 8:15 a.m. -- Open Criterium (45 minutes, 3 laps); 9:30 a.m. -- Division II women (60 min., 3 laps); 10:50 a.m. -- Division I women (60 min., 3 laps); 12:10 p.m. -- Division II men (70 min., 3 laps); 1:40 p.m. -- Division I men (70 min., 3 laps); 3:15 p.m. -- Parking lots, streets reopen
The longest race of this weekend's championship spectacle will be Saturday at Perry Lake when riders will combat hills, curves and gravel on a 28.2-mile course.
Then Sunday there will be a 12-mile time trial along the South Lawrence Trafficway, which also will close down a stretch of Kansas Highway 10.
Mike Vickers, an event liaison and longtime cycling enthusiast, said he thinks the town will embrace the event.
"I've been to a lot of downtown races -- I just took part in one last weekend in Wichita and also in Downers Grove, Ill., outside of Chicago -- and there will not be a better downtown to showcase cycling than Lawrence," Vickers said.
"I think with it being a pure collegiate race with a lot of people there to see it, than it could be tremendously exciting. Hopefully everyone will want to come back."
Ku said he certainly was happy to be back home, except for the fact he still has some homework to do.
"I have this 20-page take-home test and 10-page paper to write in the two days before the race that I need to graduate," Ku said with a laugh. "As soon as I get that stuff out of the way, though, I'll be ready to race. I'm feeling really strong. I just hope I can go out with a bang in my last collegiate bike race."
Copyright 2018 The Lawrence Journal-World. All rights reserved. This material may not be published, broadcast, rewritten or redistributed. We strive to uphold our values for every story published.