Sluggish donations have caused officials with Douglas County Court Appointed Special Advocates to extend the organization's largest annual fund-raiser for an additional week.
CASA provides a group of volunteers trained to be advocates for children who have been abused and neglected and are under protection of the juvenile court. The fund-raiser gives people the opportunity to win a playhouse for children.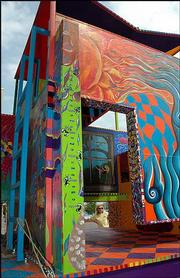 "This house is so special and this money is something we need to operate," said Sarah Hill-Nelson, CASA board president.
CASA hoped to receive $15,000 in donations. But after almost two weeks of fund raising, CASA officials had not even made $7,000 by Thursday afternoon through the organization's annual "Casa4CASA" event.
The house was slated to be given away Saturday. But that won't happen because of the lagging donations.
CASA's budget is made up of grants and donated money. Casa4CASA is the organization's biggest fund-raiser. People can donate money, and in return they receive tickets for a drawing for the playhouse.
CASA officials plan to use the money to hire more paid staff. Increasing paid staff members means the organization can take on more volunteers.
"If we can have more volunteers, we can serve more children," said Kerry Gaines, CASA's executive director.
Last year, CASA volunteers assisted 91 children. As of this month, the organization has served 77 children this year.
"I think we served about 50 percent of the kids in care last year," Gaines said. "I think we could reasonably serve an additional 25 percent if we have sufficient resources."
But Gaines said plans for new staff likely would change if donations don't increase.
People can get tickets for the Casa4CASA playhouse today at Hy-Vee, 4000 W. Sixth St., and Saturday at the Community Mercantile Co-op, 901 Iowa.Suggested donations:¢ $1 for one chance¢ $5 for eight chances¢ $10 for 20 chances
This year, Sabatini Architects Inc. designed the house and Clovis Construction built it. Student artists with Van Go Mobile Arts Inc. painted interior and exterior murals on the playhouse, which is at the Hy-Vee on Sixth Street. It will be at the Community Mercantile Co-op, 901 Iowa, Saturday afternoon. The groups donated time, labor and materials.
"If a person gets the playhouse and they don't have any children, they can donate it to their favorite preschool or give it to friends or even give it back to CASA," Gaines said. "It's just a great opportunity to help kids. We can even find a child to give it to."
Copyright 2018 The Lawrence Journal-World. All rights reserved. This material may not be published, broadcast, rewritten or redistributed. We strive to uphold our values for every story published.