Cincinnati — Tim Stauffer earned a win in his major-league debut and helped Bruce Bochy get No. 800.
Stauffer repeatedly pitched out of jams of his own making, and Ryan Klesko hit a three-run homer to send the San Diego Padres to a 7-2 victory over the Cincinnati Reds on Wednesday.
San Diego's eighth victory in 10 games handed Bochy his 800th win as a manager. Only Bobby Cox, Joe Torre and Tony La Russa have more victories with their current clubs.
"To be honest, I haven't even thought about it," Bochy said. "I was pulling for Stauff so much."
Stauffer (1-0), the fourth overall pick in the 2003 draft, calmed himself with deep breaths and made good pitches when it mattered. The right-hander gave up two runs, four hits and three walks in six innings, turning a 5-2 lead over to the bullpen.
The turning point came in the first inning, when Felipe Lopez hit a two-run homer, and the Reds loaded the bases with no outs. Stauffer got a double play for his first great escape, then settled down while family and friends cheered from the first row behind the dugout.
"It really wasn't nerves," Stauffer said.
Cardinals 9, Dodgers 3
St. Louis -- Larry Walker had three of St. Louis' season-high 19 hits and drove in three runs, backing a strong seven-inning effort by Jeff Suppan. David Eckstein had four hits and an RBI to extend his hitting streak to 12 games for St. Louis.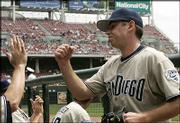 Marlins 2, Astros 1
Miami -- Dontrelle Willis improved to a major-league-best 7-0 by allowing one run and six hits in eight innings, and Damion Easley's two-run homer sent Florida past Houston.
Diamondbacks 3, Nationals 2
Phoenix -- Chad Tracy hit a tiebreaking single in the eighth inning, and Arizona beat Washington. Javier Vazquez pitched seven solid innings.
Brewers 5, Phillies 2
Milwaukee -- Junior Spivey's three-run double off Ryan Madson in the eighth inning helped the Brewers finish 9-3 on their homestand, the first time they won nine times during a homestand since going 9-1 from Sept. 18 to Sept. 27, 1992.
Cubs 4, Mets 3, 10 innings
Chicago -- Derrek Lee homered leading off the 10th to give the Cubs the win on a raw day at Wrigley Field. Mark Prior allowed just two hits in seven strong innings for Chicago, but the Mets tied it at 3 on pinch-hitter Eric Valent's two-out single in the ninth off new closer Ryan Dempster (2-3). He blew his first save chance of the season, then got the victory.
Rockies 6, Braves 5
Denver -- Todd Greene hit a game-winning, bases-loaded single in the bottom of the ninth after Atlanta had scored three runs in the top half of the inning. Colorado received an impressive start from Byung-Hyun Kim and led 4-2 heading into the ninth, only to see Chin-hui Tsao (1-0) blow the save. The rookie closer was successful in his first four save opportunities.
Pirates 7, Giants 2
San Francisco -- Ty Wigginton hit a tiebreaking two-run homer, Daryle Ward added a two-run shot, and Ray Sadler connected for his first major-league hit to lead the Pirates. Josh Fogg (3-2) pitched seven strong innings.
Copyright 2018 The Associated Press. All rights reserved. This material may not be published, broadcast, rewritten or redistributed. We strive to uphold our values for every story published.