Boston — Winning games with last-swing homers is becoming routine for the Boston Red Sox.
Jason Varitek hit one Wednesday, a day after Kevin Millar did it, and Octavio Dotel of the Oakland Athletics served up both one-out fastballs that landed in the seats.
"You don't want to make a living doing it the way we've done it the last two games," Millar said after Boston's 6-5 victory Wednesday, "but this team never gives up."
Boston kept charging after Keith Foulke's collapse in the top of the ninth. The closer gave up four runs, capped by Eric Byrnes' two-run homer that put Oakland ahead 5-4 and saw his earned-run average rise to 7.94.
But for the second straight game, Dotel (1-2) walked David Ortiz in the bottom of the ninth. Then Varitek's shot down the right-field line barely cleared the low fence just inside the foul pole for his seventh homer of the year.
"I was trying to use the middle of the field. I didn't want to try to do too much," Varitek said.
The ball jammed him, and that might have helped because "If I had gotten fully extended, I think I would have pulled it foul," Varitek said.
Right fielder Bobby Kielty jumped against the wall to try to catch the ball, but it landed about two rows into the stands.
"I went in there with the intention of catching it," Kielty said. "I thought I came pretty close."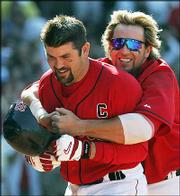 There was far less doubt the previous night about Millar's shot clearing the left-field wall. Boston won that game, 3-2, and now has won its last nine against Oakland.
"I felt good today. I forgot about yesterday," Dotel said. "Same finish. Different hitter."
The Red Sox had built a 4-1 lead behind seven strong innings by starter Matt Clement and a two-run homer by Manny Ramirez, his first in 12 games. But they almost lost because Foulke, who was on the mound for the final out of Boston's sweep of last year's World Series against St. Louis, struggled to put his pitches where he wanted.
"It doesn't matter what I did yesterday or the day before," said Foulke (2-3), who converted his previous five save opportunities. "It's all about today, and today was horrible."
Dotel got into trouble when he walked Ortiz to lead off the inning. Millar hit a long drive that Byrnes caught in left field. That brought up switch-hitter Varitek, batting lefty against the right-hander.
Dotel threw a fastball on a 1-1 count, the same pitch he threw to Millar the previous day.
"I think a lot of teams go away quietly" when they're behind, Boston manager Terry Francona said. "Fortunately, we don't."
In the last eight games, Boston is 7-1, and Oakland is 1-7.
"I'm not mad at our players, scoring the four runs in the ninth," Athletics manager Ken Macha said. "Nobody out on that field can be blamed for lack of effort."
Yankees 13, Mariners 9
New York -- Tino Martinez homered for the fifth straight game, and New York rallied twice from big deficits to beat Seattle for its season-high fifth consecutive victory.
Derek Jeter, Gary Sheffield and Jorge Posada also connected for the Yankees, who swept a three-game series for the first time this year and sent the Mariners to their 10th loss in 11 games.
Ichiro Suzuki, Richie Sexson, Bret Boone and Raul Ibanez all homered off New York starter Carl Pavano.
Martinez golfed a three-run shot off Matt Thornton (0-3) to get the Yankees even at 9 in the fourth inning. New York trailed 5-0 after the top of the first, but tied it in the bottom half.
Tony Womack tied a career high and the Yankees' record with four stolen bases, and he scored three times.
Orioles 7, Twins 4
Baltimore -- B.J. Surhoff singled home the tiebreaking run in the eighth inning, and Baltimore defeated Minnesota. Sidney Ponson (5-1) gave up two earned runs in eight innings to earn his fourth straight win and improve to 9-2 lifetime against the Twins. The right-hander did not allow a hit after the third and faced the minimum 15 batters during his final five innings.
B.J. Ryan earned his ninth save in 10 chances. Ryan had six saves during Baltimore's 8-4 homestand.
White Sox 5, Devil Rays 2
St. Petersburg, Fla. -- Orlando Hernandez took a two-hitter into the seventh inning, helping Chicago stop a two-game skid with a victory over Tampa Bay. Paul Konerko had a two-run double, and Jermaine Dye and Aaron Rowand also drove in runs in support of Hernandez (5-1), who allowed two runs and three hits in 61/3 innings.
Dustin Hermanson recorded five outs for his sixth save, extending his seasonlong streak of not allowing a run to 161/3 innings.
Indians 9, Angels 3
Anaheim, Calif. -- Ben Broussard homered and had three hits in his first game in the cleanup spot this season, helping Cleveland beat Los Angeles. Jhonny Peralta and Casey Blake tacked on solo homers in the eighth inning for the Indians, who finished 5-4 on their road trip by taking two of three from the defending AL West champions. Coco Crisp went 3-for-4 with a pair of doubles and an RBI single.
Tigers 6, Rangers 5
Arlington, Texas -- Carlos Pena's single off the glove of first baseman Mark Teixeira broke an eighth-inning tie and sent Detroit to a victory over Texas. The Tigers rallied from a 4-2 deficit in the seventh by scoring two runs on one wild pitch thanks to a throwing error on catcher Sandy Alomar Jr.
Copyright 2018 The Associated Press. All rights reserved. This material may not be published, broadcast, rewritten or redistributed. We strive to uphold our values for every story published.