Jalalabad, Afghanistan — Shouting "Death to America!" more than 1,000 demonstrators rioted and threw stones at a U.S. military convoy Wednesday, as protests spread to four Afghan provinces over a report that interrogators desecrated Islam's holy book at the U.S. prison at Guantanamo Bay.
Police fired on the protesters, many of them students, trying to stifle the biggest display of anti-American anger since the ouster of the ruling Taliban militia 3 1/2 years ago. There were no reports of American casualties, but the violence left four dead and 71 injured in Jalalabad, a city 80 miles east of the capital, Kabul.
Mobs smashed car and shop windows and attacked government offices, the Pakistani consulate and the offices of two U.N. agencies in Jalalabad. Smoke billowed from the consulate and a U.N. building. More than 50 foreign aid workers were reportedly evacuated.
The protests may expand into neighboring Pakistan, where a coalition of hard-line Islamic parties said it would hold nationwide demonstrations Friday over the alleged desecration of the Quran.
Many of the 520 inmates in Guantanamo are Pakistanis and Afghans captured after the Sept. 11 attacks. Despite both governments' support of the U.S.-led war on terrorism, suspicion lingers in the conservative Muslim nations about the American military.
Growing urban unrest could pose another security challenge for the U.S.-backed Afghan government, which is already battling a reinvigorated Taliban insurgency. About 18,000 U.S. troops are in Afghanistan, fighting rebels and searching for Taliban and al-Qaida leaders, including Osama bin Laden.
President Hamid Karzai, who travels to Washington this month, played down the violence.
"It is not the anti-American sentiment, it is a protest over news of the desecration of the holy Quran," Karzai told reporters after talks with NATO officials.
"Afghanistan is now a democratic country, people can come out and protest and demonstrate and express themselves," Karzai said.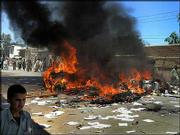 The source of anger was a brief report in the May 9 edition of Newsweek that interrogators placed Qurans on toilets to rattle suspects, and in at least one case "flushed a holy book down the toilet."
Pentagon spokesman Lt. Cmdr. Flex Plexico said the U.S. military was investigating. "This allegation is contrary to our respect for cultural customs and fundamental belief in the freedom of religion," Plexico said.
Last weekend, Pakistan's government said it was "deeply dismayed" about the report and registered its disapproval to Washington. Many Afghans read Pakistani papers and understand Pakistani broadcasts; access to satellite TV has mushroomed since U.S.-led forces toppled the Taliban in late 2001.
Copyright 2018 The Associated Press. All rights reserved. This material may not be published, broadcast, rewritten or redistributed. We strive to uphold our values for every story published.