Toronto — The Kansas City Royals were no better with a new manager.
Alex Rios hit a go-ahead double, and the Toronto Blue Jays scored five times in the eighth to rally past Kansas City, 12-9, Wednesday.
Less than 24 hours after manager Tony Pena resigned, the Royals dropped to a major-league-worst 8-26. Kansas City had a season-high 16 hits in its first game under interim manager Bob Schaefer, but it wasn't enough.
"We still lost," said Matt Stairs, who homered and drove in three runs. "We've been in this situation before, where we've gone out and swung the bat well and the next day we've struggled. That's what makes it frustrating."
The Royals issued 11 walks, their most since they walked 14 on June, 10, 2002, against Florida.
Toronto rallied in the eighth on Corey Koskie's solo homer off Ambiorix Burgos (1-2), Rios' two-run double, Ken Huckaby's run-scoring bunt and Orlando Hudson's RBI double.
Shea Hillenbrand homered and drove in four runs for the Blue Jays, who swept the three-game series.
Stairs and Emil Brown hit consecutive homers off Scott Schoeneweis in the seventh to give Kansas City a 9-7 lead. Stairs' homer was a two-run shot.
Pena called Stairs after stepping down late Tuesday night following a 3-1 loss in Toronto. Before Wednesday's game, Stairs said Pena's resignation should serve as a wake-up call.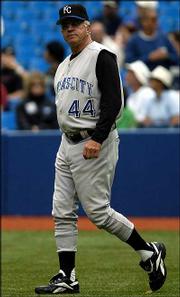 "If guys think it's going to be so easy from here on out, and continue playing the way we are, they have another thing coming," Stairs said.
Stairs went 3-for-4 with a walk for the Royals, who have lost 17 of 20. Schaefer, who had been the team's bench coach, replaced Pena on an interim basis.
"I had to pay attention," Schaefer joked. "I'm a little rusty, but I enjoyed it."
Miguel Batista (2-0) pitched 1 1/3 innings for the victory.
"It wasn't the greatest win, but we won, and that's all that counts," Koskie said.
Schaefer changed the lineup by making Angel Berroa the leadoff hitter and dropping David DeJesus to second ahead of Mike Sweeney.
The move worked: Toronto starter David Bush hit Berroa with the second pitch of the game before DeJesus hit an RBI double. Sweeney struck out, but Stairs followed with an RBI single.
Kansas City starter Denny Bautista walked the first batter he faced -- Hudson -- before Frank Catalanotto singled. Hillenbrand homered to left, giving Toronto a 3-2 lead.
Berroa's RBI double and DeJesus' run-scoring single put Kansas City ahead in the second.
Plate umpire Tom Hallion warned Bautista and both dugouts after Bautista hit Hillenbrand with a pitch in the third. Eric Hinske followed with an RBI double, and Vernon Wells hit a run-scoring single, giving Toronto a 5-4 lead.
Koskie's RBI double and Hillenbrand's run-scoring single made it 7-4 in the fourth.
Mark Teahen's two-run single off Pete Walker cut it to 7-6 in the fifth.
Notes: Schaefer said Pena wasn't himself the last month as the losses piled up. "It just got to him. He took a lot of it personally, thinking it was all his fault," Schaefer said. "I really wasn't surprised because it was beating him up." ... The Royals went 3-9 on their 12-game road trip. They open a 10-game homestead Thursday against Tampa Bay. ... Hudson tied a team record with four walks, done seven times previously. ... Bautista left in third inning with right shoulder tightness. He allowed five runs, five hits and five walks in 2 1-3 innings. ... Toronto purchased LHP Scott Downs' contract from Triple-A Syracuse and sent reliever Matt Whiteside outright to Syracuse.
Copyright 2018 The Associated Press. All rights reserved. This material may not be published, broadcast, rewritten or redistributed. We strive to uphold our values for every story published.