More than 1,000 bicyclists and fans are expected to hit Lawrence for three days of championship racing that will temporarily close downtown streets and highways beginning Friday.
But race promoters say any inconveniences from the road closings will be offset by the hundreds of thousands of dollars that the speedy bicyclists and their followers leave behind. And, they say, the spectacle should be fun.
"It's sort of like a small Tour de France for college kids," said Bob Frederick, a local event liaison for the 2005 Collegiate Road National Championships. "I think this will be tremendously exciting, and we've got three completely different races."
More than 350 college cyclists from across the nation will compete in the races, which are to cyclists what the Final Four is to basketball players.
The first race is Friday through downtown Lawrence streets. Races also will be Saturday around Lake Perry and Sunday along the South Lawrence Trafficway.
As of Wednesday morning, 353 cyclists from 65 teams had registered for the races. The teams hail from cycling clubs associated with universities across the country.
Race organizers estimate the competition, which will be held in the Douglas County area for the first time, will pour $300,000 to $400,000 into the local economy.
"We'll know the full impact after the event, when we put the pen to the paper," said Bob Sanner, executive director of the Lawrence Sports Corp. "But these cyclists will be here for at least four days. A group from Ohio State University have been here since Tuesday."
An estimated 1,000 to 1,500 spectators and cyclists are coming to town for the races, Sanner said.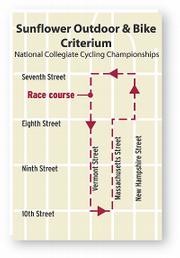 Readying for the race
Portions of Massachusetts, New Hampshire and Vermont streets and Seventh through 10th streets will be closed for about seven hours -- from 8 a.m. to 3:15 p.m. -- Friday. The trafficway will be closed from U.S. Highway 40 to Iowa Street from 6:30 a.m. to about 11 a.m. Sunday.
The downtown cycling competition likely will be the best for spectators, Sanner said.
"I think it will be the most exciting," he said. "We'll probably have 120 participants at one time just tearing down Massachusetts Street going 30 to 35 mph at the same time. Plus, the setting being downtown with the buildings and the landscape -- I just think it's going to be a unique situation."
The downtown street closings prompted concern among some business owners. In an effort to mollify them, downtown parking will be free Friday. Additionally, all rides on Lawrence Transit buses will be free Friday and Saturday to help alleviate traffic congestion and difficulties with parking, and perhaps lure more shoppers downtown.
All rides on Lawrence Transit buses will be free on Friday and Saturday.Parking also will be free downtown on Friday.The Lawrence Transit System will move downtown boarding locations east to Ninth and Rhode Island streets because of the Sunflower Bike Criterium on Friday.
Some downtown merchants hope the race will at least be a draw.
"Usually when you have a spectacle like this, it usually brings people out," said Jeremy Cain, who works at Hobbs, 700 Mass. "During parades, people find places to park. So I imagine people will find a way to get down here and enjoy themselves."
Closing the trafficway
On Sunday, emergency crews from Lawrence-Douglas County Fire & Medical will set up on the south and east sides of the bike race along the trafficway, which is also a portion of Kansas Highway 10.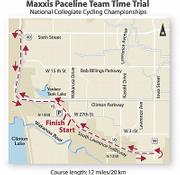 Seven Douglas County Sheriff's deputies and 10 Kansas Highway Patrol officers will direct traffic.
"It's a little different since we're closing down part of a highway," Douglas County Sheriff Patrol Lt. Doug Woods said. "We're not concerned about the local people. They've been notified. It's the people traveling through who may not know that it will be shut down that will be the main issue."
Signs indicating the trafficway is closed will be posted along Interstate 70 and U.S. Highway 59, Sanner said.
Because of the 2005 Collegiate Road National Championships, parking won't be allowed along Massachusetts Street beginning at 3 a.m. Friday.City parking lots on the east side of the 700, 800 and 900 blocks of Vermont Street and the west side of the 700 block of New Hampshire Street also will be closed during Friday's race.Additionally, the South Lawrence Trafficway will be closed between U.S. Highway 40 and Iowa Street from 6:30 a.m. to about 11 a.m. Sunday.
Two notification letters were sent to residents and a church that will be affected by the road closing.
"We've received a few phone calls about it, but they haven't been complaints" Sanner said of the trafficway closing. "People want some clarification."
There will be some access at North 1500 Road so area residents and members of Community Bible Church, 906 N. 1464 Road, can access the area.
"It's not that big of a deal, I don't think," said the Rev. Chuck Thomas of Community Bible Church. "We've never really had it happen before in terms of the highway being shut down. But we'll manage to survive. We're glad they're having the race here. I think it will be good for the community."
Copyright 2017 The Lawrence Journal-World. All rights reserved. This material may not be published, broadcast, rewritten or redistributed. We strive to uphold our values for every story published.