Topeka — The state's top judges Wednesday heard arguments supporting the Legislature's proposed fix of an unconstitutional school finance system.
But it seemed unlikely that the three hours of pleadings from state attorneys and those representing plaintiff school districts will produce a result speedy enough to please school officials uncertain how to build their budgets.
"Let's get with it here," Lawrence school Supt. Randy Weseman said. "We have to have budgets done in six weeks." He added, "I think the court understands the deadlines we are under."
But the Kansas Supreme Court justices gave no indication they would move that quickly.
Alan Rupe, of Wichita, an attorney representing school districts that sued the state over inequalities in state aid to districts, urged the court to issue an order that could force the Legislature to hold a special session and approve a $1 billion tax increase by mid-June.
"The time to act is now," he said.
Rupe told judges the new law was a failure because it would provide inadequate, unfair funding based on political considerations, so lawmakers could avoid passing a statewide tax increase.
"What the Legislature did was engage in politics as usual. This is a billion-dollar problem which the Legislature has addressed with $145 million," Rupe said.
Rupe said his clients of minority and special education students have waited six years since the filing of the lawsuit for lawmakers to fund schools properly.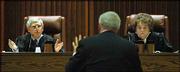 Inside the court's hearing room -- crowded with attorneys, school advocates and legislators -- the future of Kansas schools was batted around for nearly three hours.
Some characterized the high-stakes legal battle as a showdown between the judicial and legislative branches of government.
"It sounded like the Legislature was on trial here," Rep. Kathe Decker, R-Clay Center, chairwoman of the House Education Committee, said of the oral arguments.
At times during the questioning from judges, the state's attorney, Kenneth Weltz, of Overland Park, conceded he didn't know the rationale behind certain aspects of the new school finance law approved by Republicans in the Legislature.
Even so, he argued, the court should uphold it as constitutional.
"The Legislature responded in a timely, meaningful and substantive manner," Weltz said.
The standoff
In January, the court ruled the Legislature had failed its constitutional duty to provide suitable finance for schools, and ordered lawmakers to increase funding and make the funding more fair to students with special needs. It ordered the Legislature to base school finance on actual costs of providing an education and cautioned against relying on local property taxes.
Powered by Republican majorities in the Legislature, lawmakers ignored a previous cost-of-education study commissioned by the Legislature that called for a $1 billion increase, and instead approved a $142 million increase that would also allow local property tax increases of hundreds of millions of dollars.
Rupe sour on 'Sweet 17'
An additional provision of the law that affects Lawrence was particularly onerous, Rupe argued.
The law allows additional local property tax increases for the "Sweet 17" school districts, which includes Lawrence, many Johnson County and suburban Wichita school districts. Lawmakers said these increased taxes could go toward teachers' salaries in areas with a high cost of living.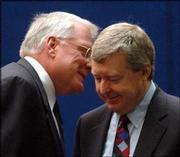 Rupe said the Legislature "got it backwards."
He said if incentives were needed for teachers, it should be for those working in inner-city schools.
The Lawrence school district would get about $2.2 million more in school funding under the new law and could raise an additional $3 million in local property taxes.
Biles' plan
A third option was brought by attorney Dan Biles, representing the state Board of Education.
The Kansas school finance system supports nearly 450,000 students across the state.Plaintiff schools have won court rulings that say Kansas doesn't spend enough on schools and the money it does spend is distributed unfairly. They have called for an increase in the $1 billion range, which would probably require a significant tax increase, consolidation of districts, or both.Republicans in the Legislature have approved a $142 million increase and allowed local school districts to increase property taxes to raise hundreds of millions of dollars more.The Kansas Supreme Court is considering whether this new law complies with its earlier order.The court has many options, but the ones most frequently mentioned are that it could uphold the new law; declare it unconstitutional and appoint a special master to oversee school finance; or allow the increased funding to take effect and strike down other parts of the law and have the Legislature revisit the subject in 2006.
Biles argued to allow the $142 million increase to go forward as an "interim solution," mandate a study to determine the actual cost of education and then hold the Legislature to funding that level during the next session in 2006.
He said the court should overturn the expanded local tax options, because those measures would widen gaps between rich and poor districts.
Biles said it would be impossible to accept Rupe's plan of increasing taxes by $1 billion before the start of the next school year because schools aren't geared up to accept that large an infusion of money.
But Rupe said he didn't trust the Legislature to respond with funding if another study said more was needed.
"There are members in the Kansas Legislature who think their no-tax pledge is more important than their oath to uphold the Constitution," he said.
State on defense
The bulk of the hearing was spent questioning Weltz, almost like a cross-examination. Rupe used up only about half of his allotted 75 minutes.
"There are just so many ways you can say it's unconstitutional," Rupe said later.
Repeatedly, the court's six justices asked Weltz to explain the Legislature's reasoning in approving the new school finance law.
The questions included How many studies are needed to determine the true cost of educating a student; What did the Legislature consider when it set the level of public school funding; and where was the data to support lawmakers' decisions.
In one exchange Justice Carol Beier asked Weltz how the Legislature determined the increase in basestate aid per pupil.
"Honestly, I can't tell you how that was arrived at," he answered.
Then Justice Marla Luckert asked whether the increase was adequate from a constitutional standpoint. Weltz answered "yes," which prompted Beier to ask, "How would you know if you don't know how you got there?"
Throughout his remarks, Weltz told the court it was limited in what it could do.
"This court cannot raise taxes. It cannot appropriate funds," he said.
A seemingly exasperated Justice Robert Davis told Weltz, "We have no disrespect whatsoever for the legislative process. In fact we affirmed that, but you have to recognize this court's responsibility to look at what the Legislature has done."
Weltz had similar verbal run-ins with other justices.
Afterwards, key legislators who attended the hearing said they were frustrated by the state's defense.
At one point, attorneys complained that a planned audit of school funding under the new law won't require that Board of Education standards be considered. But Decker, the House sponsor of the school finance plan, said that wasn't true and that Weltz didn't point that out.
Other court veterans, however, cautioned not to take the justices' questions as a sign on how they would rule.
¢ Nov. 8, 1966: Voters approve a constitutional amendment establishing a 10-member State Board of Education having "general supervision" over public schools, with the Legislature required to "make suitable provision for finance of the educational interests of the state."¢ 1991: In advance of trial on lawsuits challenging the Kansas school finance law, Shawnee County District Court Judge Terry Bullock rules on certain questions of law raised by the lawsuits.¢ 1992: After Bullock's ruling but before the trial is set to begin, Gov. Joan Finney and the Legislature enact a new school finance law.¢ 1994: Kansas State Supreme Court upholds the 1992 law.¢ 1999: A group of minority students and 14 midsize school districts file federal and state lawsuits challenging the 1992 school finance law as discriminatory against minorities and disabled students. State seeks dismissal of suits.¢ 2000: U.S. District Judge Monti Belot of Wichita refuses to dismiss the federal lawsuit. The state appeals to the 10th U.S. Circuit Court of Appeals in Denver.¢ 2001: Bullock dismisses the state lawsuit, saying there are disparities in education funding but that doesn't mean the law is unconstitutional.¢ 2002: The 10th Circuit upholds Belot's ruling that a federal court can hear the case.¢ Jan. 24, 2003: The Kansas Supreme Court overturns Bullock's dismissal of the state case, saying plaintiffs raised new issues that were not considered in the 1994 ruling on the 1992 school law.¢ Sept. 22, 2003: A trial starts before Bullock in the state lawsuit.¢ Dec. 2, 2003: Bullock rules the state funding system is unconstitutional and gives lawmakers until July 1 to correct the system.¢ Jan. 12, 2004: Gov. Kathleen Sebelius unveils a proposed $314 million tax increase for schools over a three-year period.¢ March 8, 2004: Atty. Gen. Phill Kline appeals Bullock's decision via a bill approved by the Legislature allowing an accelerated appeal.¢ May 8, 2004: The Legislature adjourns after rejecting numerous proposals to increase school funding.¢ May 11, 2004: Bullock issues order to stop school funding June 30.¢ May 19, 2004: Kansas Supreme Court stops Bullock's order.¢ Aug. 30, 2004: Oral arguments in school finance case held before the Kansas Supreme Court.¢ Jan. 3: Kansas Supreme Court says school finance system violates the Kansas Constitution and gives lawmakers until April 12 to fix it.¢ March 30: Kansas Legislature approves bill that would provide a $142 million increase in funding and allow local districts to increase property taxes to add funds. Sebelius allows it to become law without her signature.¢ April 15: Kansas Supreme Court orders oral arguments on legislative plan to be held May 11.¢ Wednesday: Oral arguments held.
Copyright 2018 The Lawrence Journal-World. All rights reserved. This material may not be published, broadcast, rewritten or redistributed. We strive to uphold our values for every story published.