AUBURN HILLS, MICH. — The NBA's most resilient team bounced back again.
Jermaine O'Neal scored 22 points, Reggie Miller had 19, and Jeff Foster grabbed a career-high 20 rebounds Wednesday night, leading the Indiana Pacers past the Detroit Pistons, 92-83, in Game 2, tying their Eastern Conference semifinal series 1-1.
"I don't think any pro team -- in any sport -- can handle what we've handled," O'Neal said before getting on the team bus. "Our goals haven't changed. Our goals are to get to the NBA Finals and win a championship. We still believe."
Many wrote the Pacers off when their Nov. 19 brawl with the Pistons and their fans led to unprecedented suspensions, but the Pacers didn't let the loss of Ron Artest and others -- or a slew of injuries later in the season -- devastate them.
Indiana even pulled off a rare road victory in a Game 7 of the first round at Boston to advance to play the defending NBA champions, who ended the Pacers' season in the conference finals last year.
"These guys have been tough. They've been through a lot," Indiana coach Rick Carlisle said. "When they get knocked down, they tend to get back up fighting."
After losing Game 1 by 15, the Pacers trailed by 15 after the first quarter and didn't take the lead until there was 4:10 left in the third when Miller's three-pointer capped an 11-4 run.
There were five lead changes in the fourth before the score was tied at 77 midway through the quarter. Miller's three-pointer put Indiana ahead, 82-77, with just under five minutes left.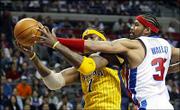 The Pacers outrebounded Detroit, 52-43, and had nine more steals.
"They did all the effort things that we did in Game 1," Pistons coach Larry Brown said. "That was the key.
"When the game really meant something, they made every single effort play."
The next two games in the best-of-seven series are Friday night and Sunday afternoon in Indianapolis.
"Nothing is secure for us at home. We lost twice at home against Boston," Miller said. "That's probably a bad thing for us and a good thing for Detroit."
The Pistons had won eight straight home playoff games dating to last year's conference finals.
Copyright 2017 The Associated Press. All rights reserved. This material may not be published, broadcast, rewritten or redistributed. We strive to uphold our values for every story published.