Quinn Klutman knew he really wasn't going to get "jacked."
But when Free State High boys golf coach Jack Schreiner jokingly threatened the Firebird junior golfer if he missed a five-foot par putt on the 18th hole, Klutman responded.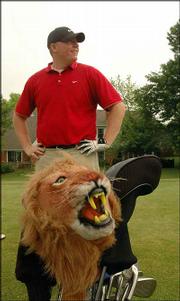 "I had a mental image of him trying to hit me, and I kind of just laughed," Klutman quipped.
It was a rare moment of consistency for Klutman on the green at Wednesday's Lawrence Invitational at Alvamar Golf Course.
But despite four three-putts, Klutman's 76 paced the Firebirds to a 14th-place finish in the 25-team field and a seventh-place spot in the final Sunflower League standings.
Free State, which entered the tournament that doubled as the second half of the Sunflower League Championship, used a season-best team score of 320 to bump up two spots after entering Wednesday in ninth.
Schreiner said he knew his team had the potential to score somewhere around 328, but behind two sub-80 performances, his young team left him pleasantly surprised.
Sophomore Jason Fulbright notched a 78.
The conditions also didn't hurt, as the lack of wind and presence of some stiff humidity made the course comfortable.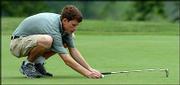 The Lions, meanwhile, ended the day in the league standings right where they started it -- 11th.
The brightest spot for LHS was its No. 6 player, senior Daniel O'Connell, leading the way with an 87. But the Lions' team score of 368, which was good for 23rd in the tournament, was brought down after one of their higher scorers, junior Cameron Hershiser, was disqualified for a scorecard snafu.
"We did a different scorecard assignment than what they're normally used to doing, and he just didn't check his score hole by hole for the official card he signed," LHS coach Ron Commons said. "I'm disappointed in regards that I think we can play better. We have played better, but we'll get one more opportunity at regionals."
Blue Valley won the team title for the Lawrence Invitational with a team score of 296, which was just two strokes better than that of Blue Valley Northwest.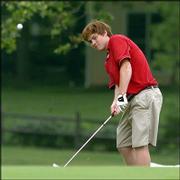 Olathe South, which had the league's individual champ in Chase Chamberlin with total of 149, won the league's team title.
Next for both city schools will be regionals Monday in Overland Park.
The Firebirds have sent at least one golfer to state every year. If Wednesday was any indication, the chances of the streak reaching one more year looked likely.
"We've never not had somebody qualify for state," Schreiner said. "That's the pressure I'm going to put on them. Somebody's got to keep it up and keep the flame burning."
Copyright 2018 The Lawrence Journal-World. All rights reserved. This material may not be published, broadcast, rewritten or redistributed. We strive to uphold our values for every story published.