Bill and Jean Mitchell's outdoor sanctuary is a labor of love.
Snugly tucked away under an enormous Austrian Pine and a gigantic Pin Oak in central Lawrence, the Mitchells' modest sized home is surrounded by a tapestry of plants lovingly planned and placed in the soil.
Jean, a devoted quilter, is a stickler for detail. There is not a weed to be found or a spent bloom that has not promptly been removed from the garden, a manicured and structured space with a certain whimsy and playfulness.
When the Mitchells moved to their home on Emery Road 40 years ago, the lawn was overrun by weeds, a couple of errant peony plants and some large trees. In the same way she prepares a quilt, she meticulously plotted plans for the garden. The garden has stayed fairly true to the original drawings. The Mitchells have had to move, rearrange and replace plants until that plant finds a happy home to take root.
The Mitchells come from a long line of avid gardeners.
"My mother and grandmother were gardeners," Jean says. "They would always talk about flowers rather than whatever gossip was wafting about town. My grandmother even hybridized lilies."
Jean's great-grandfather worked for a man that owned a nursery, and her grandfather made an expertly crafted hoe she still uses to this day.
"I've only known one person other than Jean that can hoe all day long and that was my grandfather," Bill says.
Even though Jean and Bill Mitchell are, as Bill likes to say, "of a certain age," they maintain energy and enthusiasm for their garden.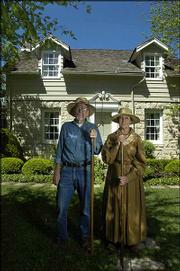 Deep imprints from family, friends and neighbors are found in many of the scrupulously planted flora in the Mitchells' garden. There is a large patch of dainty, purple irises that line up like little soldiers along the split rail fence that were originally Jean's mother's.
White vinca peppers the landscape and liriope that neatly borders many of the curving stone walkways in the back of the yard.
"The liriope came from a catalog from a nursery in Texas and they warned my mother that it would not grow in Kingman, Kansas," Jean says. "Boy, were they mistaken. It thrives in Kansas."
Some of the most recognizable plants in the landscape are the perfectly sculpted boxwoods that line the entire lawn like little green basketballs. The original boxwood was a gift from their neighbors, the Wilkens. They affectionately called the plants "The Wilkens' Box." The Mitchells were given tea roses from some neighbors, and they have a floribunda West Hills rose, named for their neighborhood. The front of the home has some old ivy creeping up the walls which was named for the neighbor who gave them a cutting, Ms. Mac Ivy.
Jean has trained a Granny Smith apple tree that she received from a co-worker into a topiary masterpiece that lines one of the fences.
Scissor perfect
Here's a look at Bill and Jean Mitchell's favorite plants:Hellebores (Christmas rose)BoxwoodYewIrisWhite dawn RosesMeidland rosesLiriopeWhite bleeding heartsStar magnoliaWhite red budTree peonyDeutziaHollyhockOld fashion roseDeciduous hollyNearly wild roseDaffodilsPhlox
Capricious topiaries are a delight to stumble upon in the garden. The boxwoods that line the front of the house reveal the couple's shearing skills.
"Topiaries happen because a bush will begin to deform, and Jean will look at the bush and mold and shape it into an eagle or dove or something," Bill says.
Jean and Bill have layered with their control of the garden scissors. Most of their landscape is bordered with privet bushes that are 5 inches high. A privet bush can grow 15 to 20 feet tall. There are burning bush clippings neatly cut and planted with a donut of boxwood surrounding the base throughout the garden. The Mitchells had to demolish a burning bush so they took the cutting and planted them here and there throughout the yard.
Conservation and thrifty gardening
Most of the boxwoods that stand at attention with their round, robust shapes started as tiny clippings. The hydrangeas that line the backyard fence were dug up on the roadside in Nebraska by Jean and Bill on a family trek, and they have proven to be a wonder of nature producing the most interesting "prehistoric" looking white flowers.
Jean overwinters her begonias, geraniums and impatiens to scrimp on plant costs. In fact, they rarely go to a nursery anymore.
"We used to buy plants but we don't anymore," Jean says. "We graph, cut, seed, splice, share and are frugal when we do make plant purchases. I may go to the nurseries at the end of the season when they are having a sale. I will purchase little plants, like our star magnolia by the driveway, and watch them grow. That is part of gardening after all, watching it grow."
The Mitchells' garden is more than a place to sit and listen to Bill's homemade trough water fountain or to admire Jean's ability to place little sculptures and found objects into the garden as if they had always been there. It is a place that has an array of vegetables, such as tomatoes, green peppers, cucumbers, squash and green beans. There is an elderberry plant in which Jean makes juice from the fruit. Refuse feeds the rest of their garden with an entire area sanctioned off for compost. They do not use anything motorized except a lawn mower. Every other garden task is done with a rake, shears and, of course, the hoe. Even the impeccably stacked woodpile is used to heat the entire house in their wood-burning stove. Every aspect of their garden seems to give to them and they give back in return.
Nurturing the soul
In such a fast-paced world of immediate gratification, it is refreshing to slow down and smell the heirloom roses that have been passed down from generation to generation.
It is inspiring to see a couple of gardeners that are not in a hurry to "have" an outdoor oasis but would rather take the time and "create" an outdoor oasis.
As I looked at the newest quilt that Jean was tenderly toiling over, it is a synopsis of their life after 50 years of marriage. Sweetly positioned in the forefront are Bill and Jean on their garden bench. He is reading to her while she stitches away. They are framed by all of Jean's nemeses: squirrels, a rabbit and a snail. At their feet lies Jean's hoe. In the background is their home and the entire garden, perfectly spaced and positioned to be forever immortalized from bits and pieces of cloth.
As I leave the two dig up a couple of baby hellebores for me to take home and share with my friends and family and begin to create my own garden in time.
Copyright 2018 The Lawrence Journal-World. All rights reserved. This material may not be published, broadcast, rewritten or redistributed. We strive to uphold our values for every story published.