New York — The first time you hear the rock group Porcupine Tree, expect to be struck by its sonic richness, its sprawling eclecticism.
And by something else: echoes from the past. While blazing new trails, this band evokes classic rockers by the score: The Grateful Dead, Pink Floyd, Rolling Stones, Moody Blues, Jethro Tull, Crosby Stills and Nash, Yes, and on and on.
"We don't want to sound like we are a throwback," insists Steven Wilson, the group's vocalist, guitarist, principal song writer, producer and guiding psyche. "But Porcupine Tree taps into the sensibilities of the great '70s album bands. It's very important for us to be some kind of contemporary version of that."
Indeed, for a rock fan of a certain age, to hear Porcupine Tree is akin to Rip Van Winkle awakening decades later to hear the music he used to love, advanced in ways he could never have imagined.
All this has been standard operating procedure for the London-based quartet through seven studio albums, and is now redeclared in the brand-new "Deadwing" (Lava Records), whose release signals a U.S. tour starting Friday in Washington, D.C., and continuing through June.
Rounded out by Richard Barbieri (keyboards), Colin Edwin (bass) and Gavin Harrison (drums), the band puts on a sizzling show, with Wilson -- despite his slight frame and bookish looks -- a commanding presence who makes himself at home onstage, usually barefooted.
Even so, he is happiest in the studio.
"What I fell in love with when I decided I wanted to be a musician was not playing, not singing, not touring per se," he explains on a recent visit to Manhattan. "I fell in love with the whole idea of making records.
"The '80s, which is when I grew up, was not a great decade for music," Wilson, 37, says in his deliberate, soft-spoken manner. "So I found myself going back to the '70s and '60s to find the golden era of the album, right through to when punk rock came along and kind of killed it dead -- that 10-year period when the album was elevated to an art form."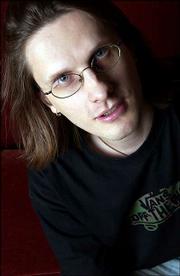 "Deadwing" (the follow-up to the group's 2002 release, "In Absentia") is an album inspired by an experimental movie script -- "a surreal ghost story" -- Wilson co-wrote with a friend. "But I didn't want to make a concept record," he says. "This is not a rock opera."
Indeed, the nine songs' often dreamy, mystical lyrics obscure any readily discernible narrative.
Closer to the surface: the many musical references.
In the first moments of the title track, you hear synthesized pulsations that recall The Who's "Baba O'Riley." The next song, "Shallow," piles on heavy metal.
The wistful "Mellotron Scratch" suggests a Led Zeppelin mood piece. The soaring "Start of Something Beautiful" glories in Beach Boys-worthy vocal harmonics.
No wonder. Growing up in London, Wilson was weaned on the '60s and '70s albums his parents loved. Thanks to them, he internalized "event LPs" from "Dark Side of the Moon" to "Pet Sounds" to "Saturday Night Fever."
Then when he was 12, his dad, an electronics engineer, built the boy a simple four-track recording deck. He began to experiment.
A few years later, in 1987, he established Porcupine Tree in its first incarnation: his own secret alter ego. A mythical '70s progressive-rock band (complete with phony personnel and a fabricated history), Porcupine Tree was Wilson's protective front for personal discovery.
"I created this whole imaginary band around myself," he explains. "I didn't want the music to be dismissed as the work of some geek in his bedroom, which of course was exactly what it was."
He also drew on his puckish sense of humor, making music that could spoof as well as explore "prog rock." Maybe this helps account for the band's cheeky name, which Wilson concedes is "not what I would choose if I could go back."
What the heck does Porcupine Tree mean? "One day I'll explain it," says Wilson, flashing a don't-hold-your-breath smile.
Selections from this one-man band were released in England. Then in 1993 he made his concept flesh-and-flood by forming a real ensemble.
Now, with the release of the 13th album bearing the Porcupine Tree name, Wilson continues searching for new ways to exhibit an old-school sense of what rock music should be and how it should be heard.
"When rock 'n' roll was born in the '50s, it was all about the two-minute pop song, and the album was just that single with some filler," he says. "Then we had the 'Sgt. Pepper' era, when the album became more important than the single.
"But then MTV came along and took everything back 20 years to just being about the pop single again. And not only that, thanks to rock videos, how you look became more important than it ever had been."
Copyright 2017 The Associated Press. All rights reserved. This material may not be published, broadcast, rewritten or redistributed. We strive to uphold our values for every story published.