Boston — Kevin Millar's power returned in time to make up for his shaky fielding.
The first baseman's two-run homer in the ninth inning gave the Boston Red Sox a 3-2 victory over Oakland on Tuesday night in a game in which his two errors led to the Athletics' runs.
"It was definitely the Kevin Millar show tonight. He was involved in every aspect of that ballgame," Red Sox manager Terry Francona said.
Millar homered on a 2-2 fastball from Octavio Dotel (1-1) one night after hitting his first homer of the season to snap a career-long homer drought of 120 at-bats. Both came after the sixth inning, giving him 42 homers from the seventh inning on out of the 104 he's hit in the majors.
"I feel better at the plate, just aggressive swings," Millar said. "I'm not going to quit. I don't have a lot of ability but I give it all I've got."
Until the Red Sox designated David McCarty for assignment May 2, he regularly went in as a late-inning defensive replacement for Millar when Boston was leading. Since then, Millar has stayed in games.
His homer came on a pitch over the plate after Millar had seen Dotel throw mostly fastballs to the other two batters in the ninth -- Manny Ramirez, who struck out, and David Ortiz, who walked.
"He was throwing a lot of fastballs," Millar said. "I was like, 'Please, throw me a lot of fastballs."'
Dotel did and ended up blowing his third save in nine opportunities.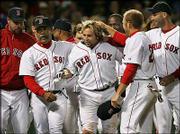 "I was trying to hit my spot away but I didn't do it," he said.
The homer was the only hit off three Oakland relievers after Kirk Saarloos allowed one run and four hits in five innings. Three of the hits -- including a tying RBI single in the fifth -- were by Johnny Damon. He extended his hitting streak to 16 games and lifted his batting average to .387, tied with Detroit's Carlos Guillen for tops in the AL.
The Athletics also turned four double plays, two against Ortiz, and left fielder Eric Byrnes made an excellent diving catch going toward the foul line to hold Boston to one run in the fifth.
"A lot of positives. We played a great game," Oakland manager Ken Macha said after his team's seventh loss in eight games. "We just didn't close it out."
Matt Mantei (1-0) pitched a perfect ninth for the win as three pitchers held Oakland to three hits. Bronson Arroyo avoided his first loss since last Aug. 15. In his previous start, he pitched 61/3 hitless innings and allowed three hits in eight innings in a 2-1 victory at Detroit.
Angels 5, Indians 4
Anaheim, Calif. -- Josh Paul and Garret Anderson each hit a two-run homer, and Los Angeles ended its three-game losing streak. The Angels' Paul Byrd (3-3) gave up three runs and eight hits in six innings. Scot Shields pitched two scoreless innings. Francisco Rodriguez yielded a leadoff homer to Coco Crisp in the ninth, but earned his ninth save in 10 chances. Cleveland's C.C. Sabathia (2-2) allowed four runs and eight hits in 61/3 innings.
Yankees 7, Mariners 4
New York -- Tino Martinez homered for the fourth consecutive game, a two-run drive that sent suddenly streaking New York over Seattle.
Chien-Ming Wang earned his first major-league victory as New York overcame a two-run deficit and extended a regular-season winning streak to four for the first time since September.
Aaron Sele (2-4) didn't make it out of the third inning, and the Mariners lost for the ninth time in 10 games.
Twins 6, Orioles 4, 10 innings
Baltimore -- Pinch-hitter Jacque Jones and Shannon Stewart homered on successive pitches from Steve Kline in the 10th inning, and Minnesota rallied to beat Baltimore. The Twins trailed 4-2 in the seventh before coming back to earn their 10th win in 14 games.
Jones led off the 10th with Minnesota's first pinch-hit homer of the season, a shot to right-center on a 3-2 count.
Devil Rays 7, White Sox 6
St. Petersburg, Fla. -- Jorge Cantu homered with one out in the bottom of the ninth inning to give Tampa Bay a victory over Chicago. The Devil Rays rallied twice to tie the game before Cantu's walkoff homer on a 1-0 pitch from Shingo Takatsu (0-2). The third baseman had tied it 6-all with an RBI single off Luis Vizcaino in the seventh.
Jesus Colome (1-0), who came off the 15-day disabled list earlier Tuesday, pitched one perfect inning for the victory as Tampa Bay became just the second team to take a series from the White Sox this season.
Rangers 5, Tigers 4
Arlington, Texas -- Gary Matthews Jr.'s first homer of the season broke a tie, and Hank Blalock also homered and drove in three runs as Texas defeated Detroit. The Tigers had erased a four-run deficit before Matthews homered leading off the seventh against starter Jason Johnson.
Copyright 2018 The Associated Press. All rights reserved. This material may not be published, broadcast, rewritten or redistributed. We strive to uphold our values for every story published.