They call them "guerrilla" tours, where big rock bands that usually play stadiums, amphitheaters or arenas show up at small clubs and do intimate performances for their most passionate fans.
Some artists say they do it to return to their roots; others to feed off the pure energy of their fans in a packed house.
"This is the best place to see a band and the best place to play," said Metallica drummer Lars Ulrich last week at San Francisco's 1,200-capacity Fillmore, where he was in the audience for a rare club set by Los Angeles band System of a Down.
Metallica played the same club a year ago for four nights.
"We took the good vibes we got here and took them out with us when we went to play stadiums," Ulrich said.
While the small shows can be a highlight for bands and fans, don't think for a minute there isn't some "guerrilla" marketing involved.
What started as a rarity back in 1977 -- those marketing masters The Rolling Stones showed up for surprise shows at Toronto's 200-seat El Mocambo Club -- has become a trendy and relatively cheap way for big touring bands to build excitement for larger tours.
Bruce Springsteen and Matchbox Twenty's Rob Thomas have been doing national tours of small venues.
In recent years Prince, Metallica, Paul McCartney, Neil Young, Pearl Jam, Tom Petty and The Cure have played small shows, either for rehearsals, recordings or to stoke the fires for bigger tours.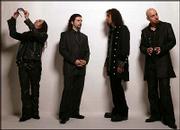 "If you are a band that could easily play a bigger show, when you do a show like the Fillmore, you want to sell it out and leave people on the street," says Rick Mueller, the man who books all the large shows for San Francisco's Bill Graham Presents.
"There's a huge buzz when you turn people away. It gets the momentum going. Radio comes down and covers it. They play the single more.
"And it gets the word of mouth out for the ones who didn't get in. 'Oh my God, I missed the Fillmore. I have to go to the next show at Shoreline, or Oakland Arena or the Bill Graham Civic."'
Publicity potential
The Rolling Stones may have been the first to see the publicity potential in small shows. The band's 1977 El Mocambo shows not only fueled interest in the band, they were recorded for a live album.
Earlier the Stones, who will announce a U.S. tour next week, tried another inventive approach. In 1975 they announced their tour playing on a flatbed truck driving around Manhattan, a trick U2 copied last year.
Since then the Stones, who haven't released an album that rose high on the charts in decades, have regularly spiced sales for larger tours with club dates.
Mick Jagger told a Toronto radio interviewer that the small shows were easier because they required less dancing.
For Keith Richards, the shows were a chance to play blues numbers that "need to be filling the room completely" and "never have the intensity in a huge place."
Create excitement
For seven years, Miller Genuine Draft staged 24 promotions called "Blind Date," flying contest winners to small clubs around the world for concerts it staged by the likes of Foo Fighters, Beck, Smashing Pumpkins, Hole, Limp Bizkit, Incubus and The Cure.
After fighting to outdo itself every year, the company has cut the promotion. But the bands themselves are now picking it up to market big buzz in a small place.
"It's the fastest way to create excitement," says BGP's Mueller.
The Coachella Festival, which has exploded into a yearly Woodstock of alternative music, has helped fuel some of the smaller shows, says Sherry Wasserman of Berkeley's Another Planet Entertainment.
Bands such as NIN, Coldplay and the Pixies have tuned up in clubs before or after the festival.
But smaller doesn't always mean better.
The English mope band The Cure sounded haphazard at the Fillmore a few years back and were far better in shows at San Jose's Event Center and at H-P Pavilion. Despite the terrible acoustics at the Cow Palace, the pounding industrial band Nine Inch Nails sounded better there than at the Warfield.
But in a tightly packed Fillmore, the angry rap/metal of Rage Against the Machine seemed like it was going to blow the roof off the place. Its big venue shows didn't even compare to that energy.
More than a thousand System of a Down fans lined up outside the Fillmore on April 24 to buy tickets for a April 25 show. One die-hard had been there since Friday, others arrived in the early morning. Anyone who had lined up before 7:15 a.m. got a ticket.
That meant hundreds went away empty-handed.
"We're here to kill rock 'n' roll," System of a Down guitarist Daron Malapkian yelled to the surging fans who formed a small mosh pit. The band normally plays venues 10 or 20 times bigger.
Judging from the band's Web site, the 90-minute hard rock show was a hit.
"Awesomeness," wrote a fan identified as Spider.
Not so for those who got shut out.
"We went to the Giants game and got smashed," wrote one frustrated fan. "But now I'm sitting here typing on my computer while SOAD is rippin' the Fillmore down."
Copyright 2018 The Lawrence Journal-World. All rights reserved. This material may not be published, broadcast, rewritten or redistributed. We strive to uphold our values for every story published.