Turns out two of the lead owners of the Eldridge Hotel knew each other long before they ever agreed to buy the place last year for $2.92 million, or sink more than $2 million in its landmark renovation.
Bobby Douglass and Mitchell Chaney actually played catch with a football.
Back in 1967.
"It was in his driveway, out in Belvue," says Douglass, who, as a Kansas University quarterback, traveled to more than 70 Kansas towns that year to promote KU athletics. "His dad was the host -- a KU guy, a doctor. And I played catch with Mitch and a few of his friends.
"When I ran into Mitch and he told me that, I thought, 'I'll be damned.'"
The business relationship that grew from that chance meeting 38 years ago today is heading up a team of investors to own the Eldridge, tackling a four-month remodeling job.
Here's a rundown of the ownership roster: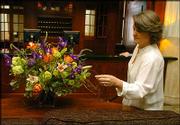 Bobby Douglass: The El Dorado native played football at Kansas from 1965 to 1969, then moved on to a 10-year NFL career that included stops with the Chicago Bears, San Diego Chargers, New Orleans Saints and Green Bay Packers. After a season as a relief pitcher for the AAA affiliate of the Chicago White Sox, Douglass invested in restaurants and real estate sales, development and ownership; he also was a partner in the ownership of two hotels. One of his daughters, Lindsay, is a senior at KU. "We need to provide consistent food and service," he says, sipping an iced tea in the hotel bar. "It sounds simple, but it isn't."
Mitchell and Susan Chaney: The couple met as employees at the hotel -- Mitchell working as a bartender and Susan as a waitress. They danced at the disco downstairs as he worked his way through law school. Today, the Chaneys live in Brownsville, Texas, where they have experience in historic preservation: Mitchell Chaney was among investors in converting the 1912 Cameron County Jail in Brownsville into an office building listed on the National Register of Historic Places. The Chaneys have family on the hill -- daughter Katie is a KU senior, and son Stuart is a sophomore -- to go along with their own memories of working at the hotel. "This is a dream come true," Susan Chaney says.
The Gene Fritzel family: The Lawrence family has branched into a variety of construction companies, and they've led efforts to refurbish, renovate and revamp the hotel. Thomas Fritzel has served as project manager on behalf of Gene Fritzel Construction Co. Inc. The family also brought two business associates into the ownership group of the Eldridge: former Lawrence Mayors Bob Schulte and David Longhurst.
Frank Sabatini and his son, Dan Sabatini: Frank Sabatini is owner of Capital City Bank and owns several Pizza Hut restaurants out of state, among other business interests. Dan Sabatini, a Lawrence architect, provided architectural services for the Eldridge project.
Copyright 2018 The Lawrence Journal-World. All rights reserved. This material may not be published, broadcast, rewritten or redistributed. We strive to uphold our values for every story published.