New York — Here's an image hard to get out of your head: wiry singer-songwriter Aimee Mann, chronicler of the emotionally fragile, whaling the tar out of somebody in a boxing ring.
You're as likely to find her in boxing gloves as with a guitar these days. An exercise routine has turned into a passion, and Mann will even go a couple of rounds with her bass player to keep in shape while on tour.
Imagine what happens if he flubbed a note onstage the night before.
During a recent interview in a Soho lounge, Mann talked animatedly about picking up the fine points of the sport, and how she applies it to her job.
"It's really difficult," she said. "That's what I like about it. There's always something new to learn, something new to work on."
Mann, 44, named her new album "The Forgotten Arm," which came out Tuesday, after an obscure boxing term for a surprise punch. It's a loosely constructed concept disc about -- you guessed it -- a boxer, and a woman who ran away with him in the 1970s.
Different direction
With Green Day and Neil Young releasing their own concept albums in the past year or so, do we sniff a trend?
"It's a direct reaction to the marketplace becoming more and more and more about one song," she said. "The single is more singlelike than ever and more disposable than ever. There are certain artists who are really getting sick of that."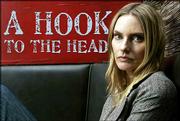 Mann, who releases discs on her own label, said she also has the freedom to try different things without executives second-guessing her.
Mann's biggest success came with the songs she wrote and performed for the movie "Magnolia," which also gave her experience with a new kind of songwriting. Instead of writing songs specifically for a movie scene, she began writing to a movie playing in her head.
She wrote two songs while thinking about a loosely constructed story of a boxer who fights at the Virginia State Fair in the early 1970s. He met a local girl eager to escape her hometown and they fell in love.
Finding she liked the process, Mann kept going, and rewrote other songs she'd been working on to fit the story.
"It's not like a real plot-laden story," she said. "They run off together and he has a drug problem that goes out of control. They split up, then it's just what happens in their heads. But it was sort of nice to think about the same people from song to song."
Recalling the fair
Though hardly autobiographical, -- Mann's happily married to fellow musician Michael Penn, not a drug-addicted boxer -- she did grow up in Virginia and spent a lot of time at the state fair.
Her meticulously constructed pop songs work even out of context with the story, since it's the sort of emotional terrain she's used to navigating. "She Really Wants You" can resonate with anyone overwhelmed by a love they felt they didn't deserve; "I Can't Help You Anymore" with any person disgusted by a doomed relationship.
Working with producer Joe Henry, Mann also made her most up-tempo rock record ever.
"I wanted it to sound like a band you'd hear playing at the Virginia State Fair," she said, an image that comes to life when you hear a drummer pounding on a cowbell.
The musical approach is a relief to fans who felt successful songs like "Wise Up" sent her in a dour direction, favoring morose material.
"People say that and I go along with it," she said. "If that's how it comes across to you, that's how it comes across. That's not my experience of it. For me as a songwriter, I have a whole picture. I often hear things in a lyric that I personally think are kind of funny -- they're ironic, wry or sarcastic -- but I don't necessarily think people are going to know that I mean it in that way."
Copyright 2017 The Associated Press. All rights reserved. This material may not be published, broadcast, rewritten or redistributed. We strive to uphold our values for every story published.