John Mercer took his family to Broken Arrow Park Saturday afternoon to enjoy the smoky smells and tastes of a variety of good barbecue.
He was not disappointed.
"There are some really good entries here," Mercer, of Lawrence, said, as he finished off a plate of samplings from one of the 48 barbecue stands set up in the park. "It's always more food than you should eat."
Mercer and thousands of others poured into the park to eat during the annual Sertoma 48 Bar-BQ contest, sanctioned by the Kansas City Barbecue Society. A proclamation signed by Gov. Kathleen Sebelius also made it the state championship barbecue contest. Many paid $5 to sample brisket, pork, chicken and pork ribs and then cast votes in the "People's Choice" categories.
The contest, organized by the Lawrence Sertoma Club, is limited to the first 48 teams to sign up. The event has gained such popularity over the years that nearly 10 other teams were on a waiting list in case a team dropped out, Sertoma members said.
The contest is limited to four dozen teams because of space considerations at the park. The contest gives out $4,800 in prize money in 48 categories.
More than 50 percent of the money raised from the barbecue contest will be used to help children and adults with communication disorders in Lawrence and Douglas County through a relationship with Schiefelbusch Clinic at Kansas University. This year's goal was to raise $15,000. Sertoma officials hadn't determined Saturday how much was raised.
While Mercer was attending the barbecue for the fifth time, Rick and Kristen Walker were there for the first time. The Lawrence couple's main interests were the pork and brisket dishes.
"There were a couple of things that were really good," Rick Walker said. "I'm not a sauce guy. I like the meat."
His wife has different tastes.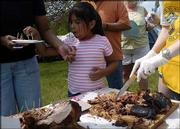 "I like the sauce," Kristen said. "By the time you are done you are really full."
The teams competing in this year's contest were mainly from the Midwest. John Nilges, with a little help from a couple of friends, is basically a one-man show on a team he calls Parrothead Smokers. Sertoma officials said Nilges, from Dakota Dunes, S.D., traveled the farthest of the teams competing in the contest. He has been cooking for three years, and this was his third year in Lawrence.
"I like it here," said Nilges, who frequently spends his weekends traveling to barbecue contests. "This is a fun event."
When last year's contest ended, Nilges was overall Grand Champion runner-up. He repeated that finish this year, coming in behind the Grand Champion winner, Hot Meat Smokers of Olathe. The team will go on to compete in the American Royal Barbecue contest in Kansas City, Mo.
Hot Meat Smokers also took first in pork and pork rib categories. Nilges took first in brisket.
"You don't do a lot of things differently, but you always tweak them a little bit," Nilges said earlier in the afternoon when he took a break from cooking.
In the chicken category, the winning team was Smokin R's, of Olathe.
Friday night was the Corporate Cook-off, which featured 15 corporate teams from Lawrence. The best food category was won by Wicklund Peterson Krische, DDS, a team that featured Cajun chicken.
The best booth category was won by CEK Insurance, which featured tuxedo clad waiters serving hot dogs to the judges on dining tables in the bed of a pickup truck.
Copyright 2018 The Lawrence Journal-World. All rights reserved. This material may not be published, broadcast, rewritten or redistributed. We strive to uphold our values for every story published.