In the late 1960s, Mark Rudd's life was dedicated to stopping the war in Vietnam and ending racial inequality. He served as the national secretary of Students for a Democratic Society and was a co-founder of the radical anti-war group the Weather Underground.
While some of his anti-war efforts were ultimately destructive, Rudd told a crowd Friday night at the Solidarity Center, 1119 Mass., that the movement as a whole was effective.
"There really was a movement at one time that actually forced a government to stop a war of aggression," Rudd said. "I think my job is just to go around and remind people that this did exist."
Rudd's speech was part of a revolutionary double-header Friday. He and former Black Panther Ashanti Alston talked to an audience of more than 50, many members of which were involved in Lawrence's anarchist organizations, about strategies for resisting war and oppression -- strategies they warned should not include resorting to violence.
In 1969, Rudd and a group of fellow SDS members had become convinced that SDS was not radical enough to bring about real change. To counter SDS's perceived impotence, they broke away from the organization and founded the Weather Underground, a group of radical activists who used violent tactics to bring attention to their anti-war demands. SDS's influence withered after the split.
It was a move that, in hindsight, Rudd said he deeply regretted.
"We made an absolutely disastrous decision to break away and destroy SDS," Rudd said. "SDS had been a huge, well-organized group. In a way, we ended up doing the work of the FBI (by bringing on the end of SDS)."
Rudd dropped out of the Weather Underground in the early 1970s, and was a fugitive from the law until he turned himself into authorities in 1977.
Though Rudd never did any time for his anti-war activities, Alston ended up spending 12 years in prison for his involvement in guerrilla tactics with the black power movement.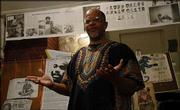 "Even when I was in jail, I kept thinking about how to get back out there and get involved in the struggle," Alston said.
While both Rudd and Alston lamented certain tactics used by their activist groups in the Vietnam era, they said that anti-war and anti-oppression groups today should believe that effective revolutions were still possible.
Alston said that while he didn't want people to go picking up guns again, "there are still so many things we can do to confront oppression. Revolution is still a doable deal; we just have to believe that it is."
The message resonated with Kansas University student Phil Torpey.
"I think what they said had relevance to the state of affairs today," Torpey said. "Revolution is possible."
Rudd will remain in town today for a showing of a documentary on the Weather Underground. The film, which was nominated for the Academy Award for best documentary feature, will be shown at 8 p.m. at Ecumenical Christian Ministries, 1204 Oread Ave.
Copyright 2018 The Lawrence Journal-World. All rights reserved. This material may not be published, broadcast, rewritten or redistributed. We strive to uphold our values for every story published.