On Wednesday, Nathaniel Spencer and LPGA Futures Tour golfer Jin Young Pak didn't even know each other. On Thursday, they shared a pro-am tournament championship.
Today, Spencer will be Pak's caddy as she plays the first round of the Lawrence Futures Classic at Eagle Bend.
The two were part of a five-person group -- four amateurs and one professional -- that won Thursday's Pro-Am scramble. The scramble format has each person hit a tee shot, and then all five hit the next shot from the first shot's best location. The team continues to hit from the best spot until someone sinks the putt.
That would explain why group scores were so low: Pak's team won in 55 strokes, 17 strokes under par. It was just one stroke ahead of Christine Boucher's group.
Fifteen other groups scored 60 strokes or fewer. There were 28 groups in all.
But Pak's group came out on top and walked away with new golf bags as prizes.
While some groups freely admitted that they piggybacked off their talented professional group member, Doug Gaumer said everyone in Pak's group agreed that it was an all-around effort that earned first place.
"It was a fun scramble," Gaumer said. "We weren't getting lucky. We were putting the ball within 10 feet (of the hole) each time."
Pak, a native Korean, said she was lucky to draw talented partners and that the victory set her up nicely for today's opening round of competition.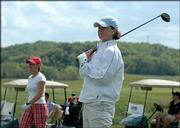 "I'm very happy with today. I thought my partners were very good," Pak said.
Coach's clinic
A pair of Kansas University coaches joined other athletic-department administrators at the pro-am.
KU women's basketball coach Bonnie Henrickson played with assistant women's golf coach Roy Edwards and associate athletic director Sean Lester. Their group, led by professional Meredith Ward, finished tied for third with a score of 57.
Henrickson said she was rusty because she hadn't played much golf since taking the job at KU.
"The format was all right for me because I don't have to play my own ball," Henrickson said.
Henrickson managed some impressive shots. She had an approach shot from the fairway on the sixth hole that stuck about 10 feet from the pin.
Edwards said that Henrickson had a difficult time at first, but caught on toward the round's later stages.
"She struggled a bit, but she hit some good shots" Edwards said. "She hadn't played much in forever, so she was getting back into it."
But Henrickson delegated all the credit to her teammates and said that she was along for the third-place ride.
"It's about recruiting, and I got myself on a pretty good team," Henrickson said. "I get to be pretty good at that, so I did well today."
The competition was special for Edwards. He coached Ward when they were both at Vanderbilt.
Starting a tradition?
Miles Schnaer has given quite a chunk of his own money to get the Futures Tour to Lawrence.
Schnaer, president of Crown Chevrolet-Oldsmobile-Toyota, has been in the business of making the Futures Tour work for 20 years.
He got the tour started in Decatur, Ill., and it has thrived there ever since as it prepares to enter its 21st year.
Schnaer and other Futures organizers said the tour already had shown promise in Lawrence, even in its formative stages.
"They feel good about it, and they've seen the dream," Schnaer said. "It's been successful all over the nation. Why would it not be successful in Lawrence?"
But how was Schnaer able to make it a winner in Decatur?
"It becomes a community event," Schnaer said. "People see what it does to the community, they see the revenue it brings to the community. That's several hundreds of thousands of dollars that aren't there that the Futures girls bring in and their families and people from the outside."
Making it a community event will be the biggest obstacle for the Futures Tour in Lawrence. Schnaer said that he understood this year's event might not be financial hole-in-one, but added that events like this might require a difficult first year to make a prosperous second.
"It's really funny: In a city like Lawrence or Decatur, or wherever it is, people want to get involved if they think it's going to be a good deal, but it takes time to get those things going because people in the beginning are apprehensive normally," Schnaer said.
The formula for success in Lawrence will rely on the same ingredient that made it a hit in Decatur: The financial backing of several major sponsors and contributors.
Schnaer said he learned of preliminary interest from a major insurance company that he did not name that was interested in getting involved in the tour next year.
"I've never been pessimistic in my business career," Schnaer said. "I've always been optimistic about, 'We're going to sell more cars and do more business.' You've just got to go after it and make it work."
Melting Pot
Sixteen foreign countries are represented. Korea has the most competitors with 11, followed by Australia with 10, Canada and France with three apiece and China and Sweden with two each. Other countries represented are Puerto Rico, Thailand, Japan, Paraguay, Denmark, Norway, Colombia, Czech Republic, Zimbabwe and Philippines.
Name Confusion
With 140 competitors, there was bound to be name duplication. Sure enough, the field features Sarah L. Johnston of St. Charles, Ill., and Sarah H. Johnston of Benton, La.
Huarte Heritage
Sarah Huarte, a former Cal-Berkeley golfer from Shingle Springs, Calif., is a niece of John Huarte, the 1964 Heisman Trophy winner.
Copyright 2018 The Lawrence Journal-World. All rights reserved. This material may not be published, broadcast, rewritten or redistributed. We strive to uphold our values for every story published.