Topeka — Science, religion and politics collided Thursday in the fight over teaching evolution in Kansas classrooms.
Critics of evolution paraded before a like-minded subcommittee of the State Board of Education Thursday to depict Darwin's work as a theory that would crumble if establishment scientists didn't protect it like a religion.
"This is taken as dogma and dogma has no place in science," said William Harris, a professor of medicine at the University of Missouri-Kansas City School of Medicine.
But Pedro Irigonegaray, an attorney who is defending evolution before the board, referred to the hearing as a "kangaroo court" and the witnesses as purveyors of "junk science."
"There is not one scientific association that supports their claims," Irigonegaray said.
In dispute are curriculum standards before the State Board of Education that will be used to guide science instruction for Kansas' 450,000 public school students.
Packed room
A science standards committee has recommended teaching evolution, but some members of that committee provided a report that criticizes evolution.
The 6-4 majority of conservatives on the State Board of Education called for at least four days of hearings on the matter, which is expected to cost state taxpayers about $10,000.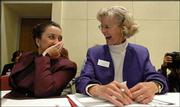 Numerous mainstream science groups have boycotted the hearings, saying the event is being staged to promote a theistic philosophy called intelligent design, which says there is a plan behind life. To counter the evolution critics, pro-evolution scientists have put up an information booth and provided experts outside the hearing room.
Media from across the country converged on the hearings, and the 140-seat Memorial Hall auditorium was nearly full at the start with reporters and spectators, but attendance dropped off drastically by the end of the day.
Board Chairman Steve Abrams, of Arkansas City, said the first day of the hearing was a success.
"We had lots of information presented to us and that was our objective," Abrams said. Day 2 of the hearings starts at 8:30 a.m.
Between the lines
Thursday's testimony fell into a pattern.
A scientist chosen by John Calvert, the head of an intelligence design organization, would testify about problems with evolution and then provide further details during questioning from Calvert.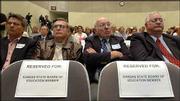 Irigonegaray would cross-examine, and then the State Board of Education members would finish the testimony by asking a few questions. By the end of the day, Irigonegaray stopped asking questions.
It became apparent the State Board of Education members liked what they heard from the evolution critics.
Harris and others said evolution supported an atheistic viewpoint that there was no plan to the universe. Irigonegaray asked where that appeared in the science standards, and Harris replied, "I see it between the lines."
Praise, dispute
Board members praised Harris' testimony. Board member Connie Morris, of St. Francis, told him, "I wish you had been in my office this morning to answer all the e-mails" she had received on the standards.
The witnesses criticized major concepts of Darwin's theories of evolution. They said evolution fails by looking at only what occurs in nature.
Jack Krebs, a pro-evolution scientist, held an impromptu news conference during a break in the hearing to angrily denounce Harris' remarks.
"He is reading between the lines things that we don't believe," Krebs said.
Copyright 2018 The Lawrence Journal-World. All rights reserved. This material may not be published, broadcast, rewritten or redistributed. We strive to uphold our values for every story published.