Wal-Mart has the city's permission to move ahead with an $8.675 million construction project in Lawrence.
Wal-Mart, the world's largest retailer, can expand its existing discount store at 3300 Iowa into a full-fledged Supercenter, now that Lawrence city officials have issued a building permit for the project.
The 94,427-square-foot addition will allow the store to accommodate a full-line grocery store, a fuel center, a drive-through pharmacy and other features. Colorado Systems Inc. of Colorado Springs, Colo., is the project's general contractor.
No official project timeline has been set, although officials have told city planners that the first phase of work will include construction of a new entrance off 33rd Street and relocation and expansion of the store's existing Community Recycling Center.
Wal-Mart's garden center already has been moved to its temporary location in the store's parking lot. Once the expanded garden center is completed, the temporary one will be removed to make way for two drive-through pharmacy lanes.
"It's like an ATM for the pharmacy," said Sandra Day, a city planner who reviewed plans for the project. "All you need is a vacuum tube and video."
A fuel center also is slated for construction in the area of what is now the showroom for Crown Toyota. Plans on file at City Hall show eight fuel pumps, although final plans have not been submitted for approval.
The permit's approval comes as another Wal-Mart project -- a proposed new store at the northwest corner of Sixth Street and Wakarusa Drive -- remains in legal limbo. Lawsuits seeking to overturn the city's denial of construction plans await rulings from Douglas County District Judge Michael Malone, who already has heard arguments in the cases.
The project on south Iowa Street faces no such legal hurdles. Plans submitted to the city show an intent to ease traffic flow; a right-turn lane is planned to be added for traffic headed north on Iowa Street, turning east onto 34th Street.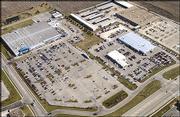 In all, the new Wal-Mart site spreads across 25 acres. The expanded parking lot will have 817 parking spaces. The store will continue to have a Tire & Lube Express.
Wal-Mart plans to expand 160 of its existing U.S. discount stores into Supercenters this fiscal year, which began Feb. 1. The expansions are included in the company's plans for adding up to 250 new Supercenters during the year.
The Bentonville, Ark.-based company has more than 3,600 stores and other operations in the United States and abroad, generating $285.2 billion in sales for the year that ended Jan. 31. The company says its stores draw more than 138 million customers a week.
In Lawrence, Crown Toyota is relocating to make way for the expansion. The Toyota dealer is moving next door into the former home of Payless Cashways at 3434 Iowa, and has until June 20 to make the move.
The 75,000-square-foot former Payless building will be home to the Toyota dealer, 18 service bays, a used-car showroom and a body shop.
Copyright 2018 The Lawrence Journal-World. All rights reserved. This material may not be published, broadcast, rewritten or redistributed. We strive to uphold our values for every story published.