Though players on the LPGA Futures Tour are practicing to become top-tier professionals, they take time out of their practice rounds to instruct groups of youngsters.
Futures Tour players put on a clinic for toddlers to teenagers Wednesday afternoon at Eagle Bend Golf Course.
Tour pro Jana Peterkova said it was nice to get back to working with young golfers, something she used to do regularly as a teenager in her native Czechoslovakia.
"I like kids. I don't mind doing this at all. They're usually so talented, and it's so natural," Peterkova said. "You can tell who can play and who's probably not going to be very great."
One youngster she worked with showed potential. Jordan Portela took to the driving range, but scuttled his first few balls just a few yards ahead of him.
Peterkova suggested that the 6-year-old keep his head still throughout his swing. Sure enough, his next shot sailed past the 75-yard marker.
His father, Tony, watch his son with admiration as his next several shots pushed the 100-yard range.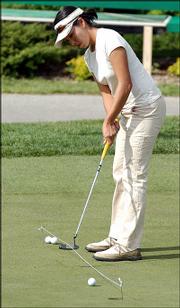 He said he introduced his son to golf about a year ago, and they have played together regularly ever since.
"We go out and have a good time, and (Peterkova) said he had a really good swing," Portela said. "We play quite a bit, and he really enjoys it."
Futures player Cathie Williamson said helping youngsters was a nice break from the grueling touring schedule.
"It reminds me that golf is fun, too," Williamson said. "Some of the question these kids ask ... it's kind of like comic relief. It kind of makes you feel famous in a way. We feel at this level, not that we're nobodies, but we're nowhere near the level of the LPGA."
Why Lawrence?
The LPGA Futures Tour expects to return to Eagle Bend.
But vice-president Tracy Kerdyk said it would need the community's support.
"We want the long term, but the community has to support it," Kerdyk said. "If it comes Sunday evening and we don't have a lot of fans and we don't have a lot of community leaders behind it, will it come back? We want it to come back, but it has to be right for the community."
Attention to Lawrence came thanks to Miles Schnaer, president of Crown Chevrolet-Oldsmobile-Toyota in Lawrence. Before his arrival in Lawrence, Schnaer owned dealerships in Decatur, Ill., and sponsored a Futures stop that is entering its 21st year.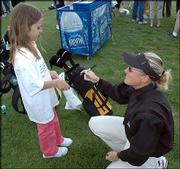 Futures Tour chairman Scott Chesbro said he expected the tournament would find similar success in Lawrence.
"We believe that we're doing this as a multi-year event. We're not doing this as a one-time deal," Chesbro said. "We're going to have to work through the sponsorships, but once people see the product, we believe that the Lawrence community will support it."
He said the tour looked into college towns because many players on tour were fresh out of college and that college communities were supportive and receptive to their efforts.
Kerdyk said that the this year's stop might be difficult from a financial standpoint, but that the purpose was to expose the community and to be able to accumulate greater interest in following years.
"Like any new event, a lot of people don't really realize what it is," Kerdyk said. "When you ask, 'Financially, has it made its mark?' No, it's not where we want to be, but with first-year events, it takes a year before people say, 'Hey, I want to be a part of that.'"
Greens good to go
The Eagle Bend golf course appears to be in prime condition, according to players who got their first look at the greens.
Some of them said they believed that they could earn a career-best score.
Williamson said that it was a wide-open course that would make for low scores all around.
"It's in really good shape. I was talking with most of the girls, and we really enjoy it," Williamson said. "If you're hitting the ball well, you can keep it in the fairway."
Williamson said players had an opportunity to score low, even though it's early in the tour and their skills may not be as sharp.
"Any given week, any of the girls can have a career-low," Williamson said. I think you can be on anytime. If you just happen to have the run of your life, it just kind of hits you. It's nothing you can plan, it just happens that way."
Notes
Players will have to watch out for Virada Nirapathpongporn, who could represent the biggest challenge on the course. The Thailand native was last year's Nancy Lopez Award winner as the world's top female amateur. ... Friday's tee times were announced. The first group tees off at 8 a.m. Friday, and the last group gets started at 2:09 p.m.
Copyright 2018 The Lawrence Journal-World. All rights reserved. This material may not be published, broadcast, rewritten or redistributed. We strive to uphold our values for every story published.