All in all, it wasn't a bad curve ball.
"It could have been more inside," Kansas University pitcher Serena Settlemier said. "It was a good job of hitting on her part."
Missouri's Janessa Roening launched Settlemier's curve ball over the right-field fence Wednesday at Arrocha Ballpark for a three-run homer that carried the Tigers to a 3-0 victory.
"I told the kids one pitch was the difference," KU coach Tracy Bunge said. "They took advantage of a scoring opportunity, and we didn't."
Kansas had a platinum opportunity in the first inning. Heather Stanley led off with a single, but was doubled off first when Jackie Vasquez blooped a limp liner to shortstop.
Jessica Moppin, Destiny Frankenstein and Settlemier followed with consecutive singles to load the bases, but MU starter Jen Bruck fanned Nettie Fierros to escape the jam.
Thus, KU failed to score despite collecting four hits.
"We made a base-running mistake, and it cost us," Bunge said, "but the way we'd been swinging the bats lately, you'd think we'd have chance to bounce back."
Indeed, the Jayhawks' had been bashing the ball during an eight-game win streak.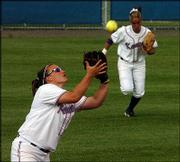 "I was thinking we were hard on the ball," Frankenstein said. "I thought it was a good sign we were really hitting the ball."
But KU managed only two more hits -- a single by Stanley and a double by Ashley Frazer -- the rest of the way against Bruck and reliever Erica Peterson.
"They're the No. 18 team in the country for a reason," Bunge said of the Tigers. "They swept the No. 1 team in the conference (Texas A&M;) last weekend."
Roening was named Big 12 Conference player of the week after pounding seven hits, including two homers, in the back-to-back victories over the Aggies.
Roening, a left-handed junior-college transfer from Port Angeles, Wash., also made a diving catch to rob KU's Elle Pottorf of a hit in the fourth inning.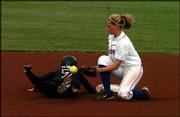 Missouri boosted its overall record to 37-10, but more important the Tigers are now 9-7 in the conference and in good shape to finish in the top six in Big 12 standings and earn a first-round bye in next week's league tournament.
Kansas, 28-20 overall, fell to 7-8 in the conference and is faced with having to sweep Iowa State this weekend in Ames, Iowa, in order to avoid a play-in game at the league tourney in Oklahoma City.
"This is a big weekend for us," Bunge said. "We have to win two. Period."
Notes: Curiously, KU and MU defeated each other on the road this season. The Jayhawks stopped the Tigers, 5-3, last month in Columbia, Mo. ... Roening's home run was MU's league-leading 69th of the season. Oklahoma is a distant second with 53 round-trippers. KU and Baylor are tied for third with 50 each ... Stanley's two singles inflated her average 10 points to .320. ... KU's eight-game win streak ended and so did its skein of scoring at least one run in 34 straight games. Washington and BYU are the only other schools that have blanked the Jayhawks this season.
Copyright 2018 The Lawrence Journal-World. All rights reserved. This material may not be published, broadcast, rewritten or redistributed. We strive to uphold our values for every story published.