It's been 15 years since John Ross opened Laser Logic in the basement of his Lawrence home, refilling toner cartridges for a handful of businesses.
Today, he's still at it. Only now, Laser Logic's client list of 1,500 extends throughout Kansas and beyond -- including California, Florida and upstate New York -- as customers continue to search for value and service in what has become a commodity-driven market.
"Back when I started, (other) people were drilling holes into cartridges and pouring toner into them," said Ross, who has seven employees at 2214 Yale Road. "Those days are gone now."
With refilled cartridges offering the same or improved print counts for about half the price of a new one, today's market for recycling them is more crowded and competitive.
Small businesses have been joined by Office Depot and other big-box stores that now offer cartridge-refill services.
However, printer companies make it hard for refill operations because they continually introduce new models, and they tweak inkjet cartridges and laser toner containers. After-market parts manufacturers struggle to keep up, jockeying with printer companies that are working to thwart such refill-enabling rollers, ribbons and other pieces.
Printer companies would prefer to sell their cartridges for $50 or more, rather than allow someone to refill an exhausted one for half the price.
"You've got planned obsolescence," Ross said, disassembling a cartridge to inspect its drum unit, wiper blade, clips, springs and other mechanisms for signs of wear. "It's kind of like a 'Mission Impossible': At the end of this tape, the toner cartridge will self-destruct."
More local options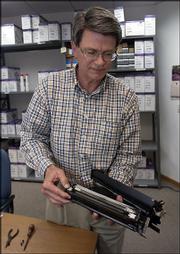 When Terry Kelly and his wife, Gloria, were looking for a franchise opportunity, they settled on another entry in the recharging evolution: Cartridge World.
The Kellys bought into the concept and, in February, opened their Lawrence store along South Iowa Street. The shop sells new cartridges for printers, but its mainstay is the refilling and recycling service that goes on behind the front counter at 2540 Iowa.
"We can refill most cartridges eight to 10 times," Terry Kelly said. "People are really starting to catch on."
The chain, barely 2 years old, has nearly 300 shops in the United States, plus an additional 500 or so internationally, he said. All of the shops focus on extending the lives of printer cartridges.
Room for expansion?
In Lawrence -- with Kansas University and Haskell Indian Nations University -- the Kellys didn't expect much trouble finding business.
Now they're already looking to expand.
"This town is conceivably, by the end of this year, worth another store," Terry Kelly said. "I would say about 90 to 95 percent of the public out there has a printer of some kind. It's beyond comprehension -- everybody has to buy cartridges, eventually."
-- Business editor Mark Fagan can be reached at 832-7188.
Copyright 2018 The Lawrence Journal-World. All rights reserved. This material may not be published, broadcast, rewritten or redistributed. We strive to uphold our values for every story published.