The key for a guy to look great is to look like he is not trying too hard to obtain a "look." The most important thing to have is a pair of great-fitting jeans. Find one in a classic blue with a slight worn-in fade to them. Also, find a pair of cargo khaki pants that look great. There are only a few things any stylish guy needs to look good.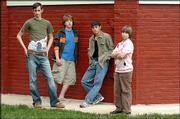 Next, decide whether to dress up or down. If trying for a retro look, find a vintage T-shirt at a thrift store or trading place (there are a ton downtown). Find a logo that will ignite a conversation and maybe get a number. Stick a button-down shirt on top in a plain or a striped color. Or skip the T-shirt underneath and try wearing a tie with a nice shirt with jeans. Always roll up the sleeves if this look is for school. Do not worry about buttoning the top button, just look like you just got out of bed.
If this style seems too difficult, buy a whole bunch of plain colored T-shirts that look good with the color of your hair. For dark hair, try a blues, and for blondes, try greens. However, do not be afraid to go for some spring color. Lighter, pastel polos are really in for guys, too. Wear them with a pair of jeans or khakis if dressing up. Add some brown leather flip-flops and the town awaits you.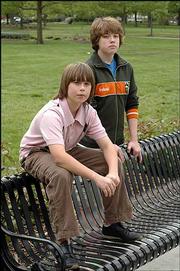 Track jackets also are really popular for guys. They give off that sporty feel while moving past the sweats. Retro tennis shoes in interesting colors will show off fashion sense while staying comfortable. Whatever you do, keep it in the comfort zone.
The most important thing to remember is that to look great and stylish, it is not necessary to spend a ton of cash. Find cute clothes that may be behind that ugly sweater that grandma knitted (no offense, grandma). Organize existing clothes by kind and color and go from there. Budget a few items now and wait until the sales to buy the other stuff. Fashions come and go, but good planning and classic looks never fade.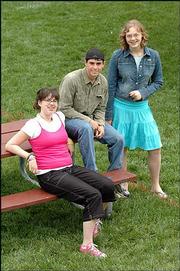 Copyright 2018 The Lawrence Journal-World. All rights reserved. This material may not be published, broadcast, rewritten or redistributed. We strive to uphold our values for every story published.