Alameda, Calif. — The Oakland Raiders threw a big playbook at Randy Moss on his first day, and were impressed when he didn't flinch.
Moss made a strong impression during his initial two practices with his new team, quickly showing his big-play capability even with no one defending him.
Moss caught a 15-yard out from quarterback Kerry Collins in Friday's early session, tiptoeing the right sideline before going out of bounds. Moss and fellow receiver Jerry Porter, re-signed to a five-year deal in February, squatted together on the field and motioned with their hands to diagram plays.
They are expected to be quite the 1-2 punch in Oakland's talented, deep receiving corps. Both are brash with big egos and can change a game in a matter of moments.
"It was cool," Porter said.
On his way inside, Moss was stopped briefly by Norv Turner.
"How was it?" the coach asked his new receiver.
Moss just smiled and gave the thumbs-up sign, his long braids swinging and glistening in the California sunshine.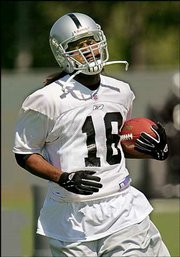 Acquired last month in a trade with the Vikings, Moss looked sharp -- and, of course, fit -- in his new No. 18 uniform and oversized gray shorts.
"I thought Randy was outstanding," Turner said. "He got in yesterday afternoon late and we put a lot of offense in today and we have a lot going in this weekend.
"He handled it extremely well. It's a whole different system than he's been around. He went out and relaxed and obviously he can run and catch and do those things. He looked very comfortable to me."
The Raiders didn't make any veteran players available to reporters, opting to formally introduce their new draft picks instead.
"The organization wanted to present its rookies," senior administrator Artie Gigantino said, "because during draft day we didn't have them in and we had minicamp right after the draft. Why bring them in twice? That's always been the policy."
Four-time Pro Bowl cornerback Charles Woodson, whom the Raiders still are trying to trade, practiced and socialized with teammates all while spitting sunflower seeds.
Woodson is the Raiders' franchise player for the second straight season and he signed a $10.5 million tender in February -- a 20 percent raise over last year's salary of nearly $8.8 million. So far, the Raiders haven't found a team willing to give Woodson the lucrative long-term contract he wants.
"Charles was in when we had the press conference for Randy and I had a good talk with him then," Turner said. "Our conversation then was, 'Hey, nobody knows what's going to happen. There's going to be speculation, there'll be people saying things. Whatever it might be, just get ready to go and we'll see what happens.' Charles is here and I'm glad he's here. We're off to a good start."
Copyright 2018 The Associated Press. All rights reserved. This material may not be published, broadcast, rewritten or redistributed. We strive to uphold our values for every story published.