Harrison Ford fills his home with her parrot tulips, calla lilies or anything else that's in season.
Oprah Winfrey receives the feminine touches of her peach and salmon Anemone.
And Cherie Yvette? Well, she just wants to give every bride in the country a chance to enjoy the same exotic, romantic and farm-grown flowers she orders for the most exclusive designers in the country.
Without the high-end markup.
Yvette is preparing for a nationwide launch of her latest venture: "Do-It-Yourself Weddings," a floral package designed to give bridal parties access to the sophisticated flowers, high-end accessories and basic tools necessary to put together a one-of-a-kind event on a value budget.
All a bride needs, she says, is a flair for the unique, time to learn and a bridal party ready, willing and able to cut stems, run ribbon and keep things fresh.
"You don't need to be a chef to do a really good meal," said Yvette, owner of Cherie Yvette Flowers, run out of her basement in Old West Lawrence. "You just need a great recipe.
"That's what we're doing with flowers."
Yvette is counting on the recipe to expand her business beyond its current boundaries and into the mainstream, where $72 billion a year is spent on weddings.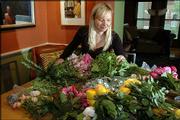 The concept, Yvette says, is relatively simple:
A bride chooses a general theme for a wedding, which then is translated into a floral plan reflective of the season: "Exotic" might mean orchids, while "feminine" could lean toward roses and "wild" might mean sunflowers.
Through a network of farm-based growers in nine countries, fresh flowers are delivered by FedEx directly to the wedding site -- along with a box of instructions, pruners and all the ribbon, tape, pins, glassware and other touches needed to assemble arrangements, bouquets, corsages and boutonnieres.
To make sure a bride's team of assemblers -- typically a mother, sisters and her bridesmaids -- are up to the task, all can attend a seminar to see and learn how to get the job done. The first will be in June at the Circle S Ranch north of Lawrence.



Minding Martha's method
The system won't be for everyone, Yvette says. But for those willing to take a shot at putting their own touch on floral arrangements, Yvette figures her message of "do-it-yourself -- with style" could grow into something big.
"It's kind of like what Martha Stewart did," Yvette says. "Martha Stewart Living was all about these high-end home products you could do. Most people wouldn't have gone in and painted their house or catered their event or made a lemon souffle. But Martha's like, 'Here's the ingredients. Here's a beautiful picture. And here's how you do it.'
"And that's what we're doing with flowers."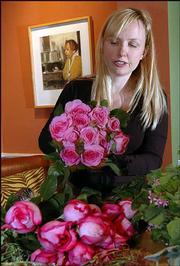 The concept worked for Lorna Loy. The Lawrence piano teacher was trying to put together a wedding for no more than $2,000, and she pulled it off.
Forty people gathered at her home south of town a few weeks ago, watching her shine in a purple dress accented with long- and short-stemmed orchids supplied by Yvette and helpfully guided by Yvette's Web designer, Ferdouz Vuilliomenet.
After a day filled with plenty of ups and downs -- the hairdresser never showed up -- the bride simply beamed after the exchanging of vows and the inevitable reviews from her family and closest friends during the reception.
"That was really the most beautiful thing at the wedding," Loy says. "I got so many compliments from people -- 'I haven't seen flowers like that in such a long time.' 'Where did you get them?' -- that I couldn't have been happier about the arrangement."
Loy can't imagine the concept staying low key for long.
"There are so many brides on a budget, but they want tasteful, high-quality flowers," Loy says. "And I think a lot of people nowadays are trying to do as much as possible on their own: the invitations, even their dresses. If you can get the flowers that are beautiful, why not do it yourself?"
Do-It-Yourself doubts
Jenny Stromann, a spokeswoman for the Society of America Florists, concedes that there may be a glimmer of a market for such do-it-yourself services, but doubts it offered much chance for growth. Florists, she says, are professionals who know how to order, design, arrange and care for flowers to make a wedding everything that a bride had imagined since her childhood.
Brides already have enough to worry about in the days leading up to the big day without having to take a chance that their flowers will arrive on time, in the right condition and end up in a presentable fashion.
"There's definitely people who want to be very hands-on and do their own thing. It's a service that might meet their needs," says Stromann, whose Alexandria, Va.-based organization represents 12,000 florists, wholesalers, growers and others in the floral industry. "But how many people are going to bake their own wedding cake? And make their own wedding dress? And make the whole entire meal for everyone? And play the piano?
"That sounds like it'll be interesting to see how it goes."
Yvette isn't worried. She's succeeded after launching a flower stand at the corner of Eighth and Massachusetts streets back in 2000, selling her flowers to passers-by and to a handful of local businesses. A foray into California -- she operated a cart on Rodeo Drive in 2003 -- put her in contact with a handful or stars and their designers, she said, not to mention "every Japanese tourist in the world" who stopped by to have their photos taken with her.
Her sales have been on the rise. From Mother's Day of last year through the end of December, she says, the business took in $150,000. So far this year, the total has reached "well over" $100,000.
Now that she'll soon be taking her show on the road -- conducting "Do-It-Yourself Weddings" seminars in New York, Chicago, Atlanta, San Francisco, Los Angeles, Miami, Seattle, Phoenix and "somewhere in Texas" -- Yvette figures she'll have plenty more contacts to keep her busy.
"We're going to introduce people to a whole new world of flowers," she says.
Copyright 2018 The Lawrence Journal-World. All rights reserved. This material may not be published, broadcast, rewritten or redistributed. We strive to uphold our values for every story published.