On a morning in Jackson, Miss., the garden where novelist Eudora Welty once muddied her knees, fussed over camellias and cultivated a lifetime of stories, hums with life. Bees hover over bright disks of zinnias, among spires of salvia and along a purple border of asters. As a breeze flutters the morning glories, a black swallowtail lands nearby.
Did Welty, one of America's most celebrated and influential writers, discover her muse here?
That's precisely the kind of question that has inspired the horticulturists, historians and volunteers who have been restoring this green haven since the mid-1990s.
"You know this world sparked her imagination," English professor Suzanne Marrs, Welty's biographer, friend and neighbor, tells Smithsonian magazine. "And that may be the most important thing. What was she observing that sparked the stories, and why?"
During her 50-year career, nearly everything Welty wrote emerged from the house at 1119 Pinehurst St. in Jackson, where she worked in her second-floor bedroom overlooking the garden.
"Children, like animals, use all their senses to discover the world," Welty wrote in her 1984 memoir, "One Writer's Beginnings." "Then artists come along and discover it the same way, all over again." She added that "the outside world is the vital component to my inner life. ... My imagination takes its strength and guides its direction from what I see and hear and learn and feel and remember of my living world."
Her garden was a big part of that living world. Designed by her mother, Chestina, a passionate amateur horticulturist, it bordered the English Tudor-style house on the north, south and east sides. Chestina -- as well as Eudora, her apprentice and self-proclaimed "yard boy" -- adored it and agonized over it. The garden became an abiding source of inspiration for Welty, showing up throughout her stories. "It was an important source of imagery for her," Marrs says. "She thought of gardening as a metaphor for all sorts of things, like an attempt to find order and structure and meaning."
But when she reached her 80s, Welty no longer could maintain the garden. "The honeysuckle and the poison ivy had just taken over everything," says Susan Haltom, a horticulturist specializing in historic garden design and preservation, who has overseen the restoration since it began in 1994.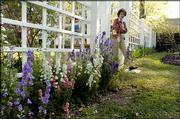 As Haltom reread Welty's stories, she realized how much the garden had infused her writing, and she suggested that the grounds also should be considered in the creation of the museum. Haltom chose to restore the garden to the period from 1925 to 1945, when it reached its full potential, and when Welty's career was blossoming as well.
After Eudora's death at 92 in 2001, Mary Alice White found Chestina's 1930s gardening journal, and there it was: the garden layout, complete with plant names and locations.
White and Haltom continue to find more details in Eudora Welty's letters and notes. "Sometimes she would write someone and say, 'I just ordered a General George Washington,' or whatever," Haltom says. "It's so much fun. It's a treasure hunt. And I'm not only trying to find the clues as to what they are, I'm trying to locate them in nurseries and to find out if anyone still grows them, and I'm propagating these for the future."
The garden opened to the public in April 2004. It's still a work in progress, true to its original intent.
It's a place of bent backs and dirty knees, where what one is seeking is not perfection or distance, but an honest view of real life -- a view the writer who loved this garden was so gifted at giving the rest of the world.
Copyright 2017 The Lawrence Journal-World. All rights reserved. This material may not be published, broadcast, rewritten or redistributed. We strive to uphold our values for every story published.