Boston — When it came to finishing off the Boston Celtics, the high-scoring Dallas Mavericks turned to an unlikely source: defense.
Dallas used a 22-6 run early in the fourth quarter to break open a close game and extend the Celtics' losing streak to four games with a 112-100 victory Wednesday night.
"We worked on being able to close out games early in the season defensively," said Dirk Nowitzki, who led Dallas with 36 points. "Offense will come and go, but defense is what wins games down the stretch. Five or six good solid minutes on defense set the tone in the fourth quarter."
Keith Van Horn added 21 for the Mavericks, who won for the ninth time in 11 games and continued to excel on the road. They have league's third-best road record at 24-11.
Since winning 11 of 12 after acquiring Antoine Walker, the Celtics have slumped. Walker has shot just 33 percent during the four-game slide.
After Ricky Davis cut the Mavericks' lead to 77-76 with 11:15 left, Van Horn, Josh Howard and Jerry Stackhouse combined to score 17 points during the pivotal run, giving Dallas its biggest lead of the game at 99-82.
The Celtics pulled to within 101-92 with 2:12 remaining on a runner by Walker, but Nowitzki converted two three-point plays in the next minute to put the game out of reach.
"I thought we played great defense when we needed to," Stackhouse said. "We were the better defensive team tonight and that made the difference."
Paul Pierce led the Celtics with 21 points. Ricky Davis and Walker each added 18.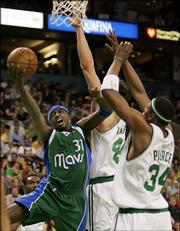 Magic 108, Raptors 96
Orlando, Fla. -- Orlando took another step toward reviving its playoff hopes with a victory over Toronto. Grant Hill scored 21 points, and rookie Dwight Howard contributed 18 points and nine rebounds as Orlando won its second game in a row.
Bulls 102, Bobcats 99
Charlotte, N.C. -- Ben Gordon showed Emeka Okafor why the Rookie of the Year award still is up for grabs, scoring 22 of his career-high 35 points in the fourth quarter to lead Chicago. Gordon drained a tie-breaking three-pointer with 42.8 seconds left, then gave Chicago a 101-97 lead with another three with 21.7 seconds left. Chicago's Kirk Hinrich missed his fifth straight game because of a strained left hamstring.
Nuggets 109, Jazz 98
Salt Lake City -- Andre Miller had 24 points and nine assists and led a key fourth-quarter run for Denver. Denver (39-31) tied Memphis for the No. 7 spot in the Western Conference playoff race. Marcus Camby had 23 points and 16 rebounds.
Spurs 89, Sonics 76
San Antonio -- Tony Parker scored 28 points, and San Antonio let a 20-point fourth-quarter lead dwindle to 10 before holding off Seattle. A three-point play by Seattle's Ronald Murray midway through the fourth quarter cut the Spurs' lead to 75-65. Parker then made two free throws and a layup, and Brent Barry tipped in his own missed layup to put San Antonio back up by 16 points with about four minutes left.
Pistons 99, Kings 82
Auburn Hills, Mich. -- Richard Hamilton scored 24 points, and Ben Wallace added 19 points and 14 rebounds as Detroit beat Sacramento. Rasheed Wallace added 14 points and 10 rebounds for Detroit, while Mike Bibby led the Kings with 26 points, and Peja Stojakovic added 15.
Warriors 113, Bucks 109
Milwaukee -- Baron Davis scored 25 points and handed out 15 assists, and Mickael Pietrus scored 21 points off the bench to lead Golden State over Milwaukee. Davis scored 16 points in the fourth quarter to lead the Warriors (26-45), who won for the sixth time in seven games. Troy Murphy and Jason Richardson each added 18 points.
Wizards 102, Hawks 99
Washington -- Gilbert Arenas scored nine of his 36 points in the final 31/2 minutes, including the go-ahead basket on a driving layup in traffic with 34 seconds to play, leading Washington over Atlanta.
Arenas also drew a charge on Al Harrington with 20 seconds left, denying the Hawks a chance to tie the game and potentially break a losing streak that's nearly three weeks old. Atlanta has lost 10 straight and 23 of 24.
Suns 116, 76ers 87
Phoenix -- Steve Nash had a career-high 13 rebounds to go with 12 points and 12 assists, Quentin Richardson set team records for three-point shooting, and Phoenix clinched its first Pacific Division title in 10 years by beating Philadelphia.
Rockets 100, Blazers 84
Portland, Ore. -- Yao Ming scored 29 points, and Tracy McGrady had 26 points and 10 rebounds to lead Houston over the Trail Blazers, completing a four-game sweep of the season series against Portland. McGrady's three-pointer extended Houston's lead to 72-57 midway through the third quarter, and the Rockets went on to lead by as many as 25 points for their sixth win in seven games.
Nets 95, Clippers 78
East Rutherford, N.J. -- Vince Carter scored 31 points, and Jason Kidd had eight points and 13 assists as New Jersey kept its playoff hopes alive with a victory over Los Angeles.
Copyright 2018 The Associated Press. All rights reserved. This material may not be published, broadcast, rewritten or redistributed. We strive to uphold our values for every story published.