Kabul, Afghanistan — First lady Laura Bush spent six hours in Afghanistan on Wednesday, praising the courage of Afghan women and pledging more U.S. help for the war-torn country.
She shook the hands of many women, some of whom shyly held scarves across their faces. She told them how happy she was to meet them and she wished them all good luck.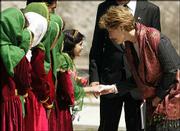 "I bring the very best wishes of the American people," she told a group at a new women's teacher training institute.
Bush, a former teacher and librarian, has said she was concerned about the lack of education for Afghan girls under the former Taliban regime.
Bush's trip was seen by many here as a signal of America's commitment and as a morale booster for Afghan women.
"It was a very short visit," said Naveed Ahmad Moez, spokesman for Afghanistan's Foreign Affairs Ministry. "But just having Laura Bush visit is a very positive sign."
Copyright 2018 The Lawrence Journal-World. All rights reserved. This material may not be published, broadcast, rewritten or redistributed. We strive to uphold our values for every story published.