Get ready to sort through twice as many piles of books for your choice of interesting reads.
The Friends of the Lawrence Public Library will hold its spring book sale today through April 9.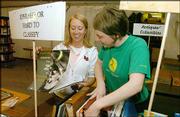 "The sale is doubling in size," Leslie O'Neil, coordinator for the book sale, said. The Friends are moving the sale into a large tent -- similar to the fall book sale -- from the library garage. The tent, at Seventh and Kentucky, means no lines or waiting, O'Neil said.
Books up for grabs include fiction, history, science, business, reference and hobbies. Videos, records, tapes, CDs, magazines and maps also will be sold.
Proceeds from the sale support the Lawrence Public Library. The organization raised $49,368 from last fall's book sale. At the first book sale in 1973, it raised $1,748.
Friends of the Lawrence Public Library has used the funds to purchase everything from books and computers to chairs and CD players.
"Wherever library staff sees a need, we help fund it," O'Neil said.
The group has improved what the library has to offer, Lawrence Public Library director Bruce Flanders said.
The Friends of the Lawrence Public Library book sale will be at the following times and dates:¢ 5 p.m. to 9 p.m. today -- Members-only night. Memberships are available. The cost is $10 for individuals and $15 for family.¢ 10 a.m. to 8 p.m. Friday¢ 10 a.m. to 6 p.m. Saturday¢ 1 p.m. to 6 p.m. Sunday¢ 5 p.m. to 8 p.m. Monday¢ 5 p.m. to 8 p.m. April 7¢ 10 a.m. to 4 p.m. April 9
The organization most recently gave the library $12,000 to fund summer reading programs for children. The money purchases books as rewards for children who meet program goals, Flanders said.
The book sale directly benefits the library. But Flanders also views it as a community event.
"It kind of marks the seasons here in Lawrence since there's a fall and a spring sale," he said. "But it's a chance to meet friends and build personal libraries."
Patrons aided by wheelchairs or crutches should call the library at 843-3833 ext. 123 to make special arrangements.
Copyright 2018 The Lawrence Journal-World. All rights reserved. This material may not be published, broadcast, rewritten or redistributed. We strive to uphold our values for every story published.